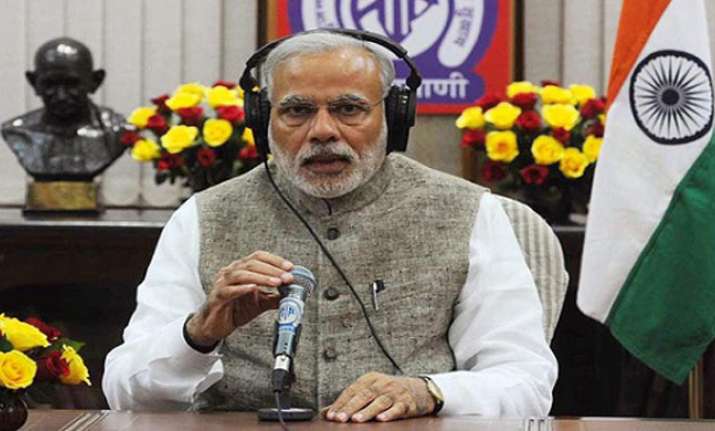 New Delhi: Prime Minister Narendra Modi today has urged people to conserve and save water, especially rain water. In his 18th edition of monthly Mann Ki Baat programme on All India Radio, he said conserving water from various sources will help the farmers to irrigate their land in view of deficit monsoon.
Asking people to find news ways to conserve water, he said, 'ponds should be kept clean so that more and more water can be conserved'.
He said that the government is planning to make 5 lakh new ponds and through MGNREGA assets will be created to conserve water. He also called upon people to make water conservation a movement.
During his half an hour address, the Prime Minister requested farmers to download and use Kisan Suvidha App, which will provide all information regarding agriculture and new technologies to improve the farm productivity.
Terming the App a part of Digital India, Modi said that it is a myth that such a facility can only be used by urban people and youth. He asked farmers to send complaint to him if the App lacks any information for them. He urged farmers to use less fertiliser in farming.
Referring to World Health Day which will take place on 7th of next month, the Prime Minister called for eradicating Diabetes from the country. He asked people to do Yoga and physical exercise to fight Diabetes.
Mentioning about government's step to deal with rising cases of Tuberculosis, he said, people should not delay in going for checks up if they find out any symptom of the disease. He said there are more than 13 thousand Microscopy centres and four lakh DOTS provider available in the country free of cost. He called to make country free from Diabetes and Tuberculosis.
Admitting that India is lagging behind in tourism sector compared to the world, Modi asked countryman to give thrust to tourism . He said there is a need to attract more tourists to India by making country's tourists destinations more attractive.
Prime Minister said that tourism has great potential for generating employment for millions of the youth of the country. Calling for collective efforts in this direction, Modi said governments, NGOs and society can play a pivotal role to further develop tourism sector. He said travel teaches us a lot.
He also lauded the effort of Western Coalfields Limited Nagpur for developing eco friendly mine tourism circuit.
Speaking about India hosting FIFA Under-17 world cup next year, he said it is an opportunity for the country to create infrastructure and build enthusiasm among youth for the sport. He said there is renewed interest among youth for football in the country and all must endeavour to take football to every nook and corner of the country.
Seeking suggestions from public on Narendra Modi App, he said, views can help in designing better logo, preparing slogans and branding India at world fora.
Prime Minister also extended Easter greetings to all and best wishes to India and Australia team for their T-20 clash in the evening.
Highlights:
* कुछ ही दिनों में, विक्रम संवत की शुरुआत होगी. मेरी नव-वर्ष के लिए सब को बहुत-बहुत शुभकामनायें हैं.
* PM is paying tributes to Dr. Ambedkar and talking about his life.
* A few days ago there was TB day. To fight TB you need correct and complete treatment. और इसलिए मैं आज मेरे देशवासियों से आग्रह करता हूँ कि हम Diabetes को परास्त करें, TB से मुक्ति पाएँ.
* इस बार दुनिया ने 'World Health Day' को 'Beat Diabities' - इस theme पर केन्द्रित किया है: PM
* This is a very important time for farmers. All of us have to think about one thing and that is water conservation: PM
* Shilpa shared on MyGov India that we should ensure that we offer water to those who sell milk, newspapers, deliver posts etc. बात छोटी होती है, लेकिन गर्मी के बीच अगर postman घर के पास आया और हमने पानी पिलाया, कितना अच्छा लगेगा उसको। - PM Modi
* PM requests farmers to Download Kisan Suvidha App on their mobile phones to get all information regarding agricultural issues
* Abhi Chaturvedi reminds PM of his message last year of giving water to birds during summer.
* My young friends, don't let your holidays go just like that. Pick up one skill during the holidays: PM
* PM Narendra Modi emphasises on cleanliness at tourist spots across India. There are a lot of opportunities to create employment in the field of tourism, India lacks far behind other countries in this sector: PM Modi
* Last time I had appealed you to upload pictures of places you visit, this time write something about the pictures you upload. It is rightly said that 'A traveller without observation is a bird without wings': PM Modi
* मैं Coal India को एक विशेष बधाई देना चाहता हूँ | Western Coalfields Limited (WCL), नागपुर के पास सावनेर, जहाँ Coal Mines हैं. उस Coal Mines में उन्होंने Eco-friendly Mine Tourism Circuit develop किया है: PM
* भारत विविधताओं से भरा हुआ है | एक बार देखने के लिए निकल पड़ो, जीवन भर देखते ही रहोगे, देखते ही रहोगे. ज़िन्दगी को बनाने के लिए प्रवास की एक बहुत बड़ी ताक़त होती है: PM Modi
* * मैं चाहूँगा कि मेरा हर नौजवान ये 2017 FIFA Under- 17 विश्व कप का ambassador बने. FIFA Under17 is an opportunity for India. Send your suggestions on #NarendraModi App for branding India on global scale: PM Modi
* I see that our youth is enjoying football like EPL. Its important to take football to every village & FIFA U-17 is a great opportunity. Due to the tournament that we are hosting, we will get an opportunity to create good sporting infrastructure also. PM Modi
* समय है, खेलों में एक नई क्रांति के दौर का. India had a good run in football earlier but that is not the case now. Our rankings are also very low: PM
* FIFA Under17 World Cup is an opportunity to instill in our youth the passion and fervour for Football: PM
* You must probably be waiting for IND vs AUS match today. India has recently registered 2 brilliant wins against Pak & Bangladesh: PM
* I extend my heartiest greetings on the occasion of Easter to all: PM Modi
Regional language versions of the programme will be aired by AIR stations in respective regions at 7 PM.
The Prime Minister through 'Mann Ki Baat', has shared his thoughts on a range of issues including drug addiction, farmers problems, menace of corruption, declining sex ratio, promotion of Khadi and high rate of casualties in road accidents.