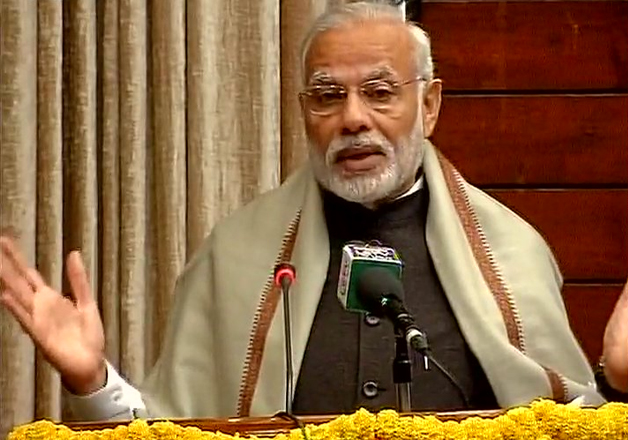 Prime Minister Narendra Modi today slammed the opposition parties for criticising the demonetisation driver, saying 'they are charged up not because the government was not prepared for its implementation but because it did not get time to prepare itself'.
"A lot of people are criticising demonetisation in parliament. But most of the criticism is that the government was not prepared to implement the decision," PM Modi said during the Constitution Day celebration function at the Parliament House Annexe.
"But that is not the real reason behind their criticism. They are hurt because the government didn't give them enough time to prepare for it," he added.
"Even if they had got 72 hours to prepare themselves, they would have commended the move," the Prime Minister further said.
The opposition parties have not allowed the Parliament to transact business since the beginning of the Winter Session. They have been demanding a debate under a rule that entails voting, and has demanded that Prime Minister be in the House.
The government, however, has said that it wanted to discuss it under Rule 193, which does not entail voting, and that minister concerned or any other person on behalf of the government will reply. However, Finance Minister Arun Jaitley yesterday said that the Prime Minister will participate in the debate on demonetisation.
PM Modi further said that the common citizen has become a soldier against black money, corruption and counterfeiting by joining the demonetisation drive. 
Assuring the public that their legitimate money is completely safe, he said, "Every person has a right to spend his or her money. No one can take anyone's money. Now people can spend through mobile technology also." 
The Prime Minister said that the decision will push the country towards a cashless economy.
"The world is changing. We must move towards cashless economy," he said.
Meanwhile, opposition parties today once again created ruckus in the Rajya Sabha and even demanded that the Prime Minister must apologise for his remark that critics of note ban were not in support of wiping out black money.