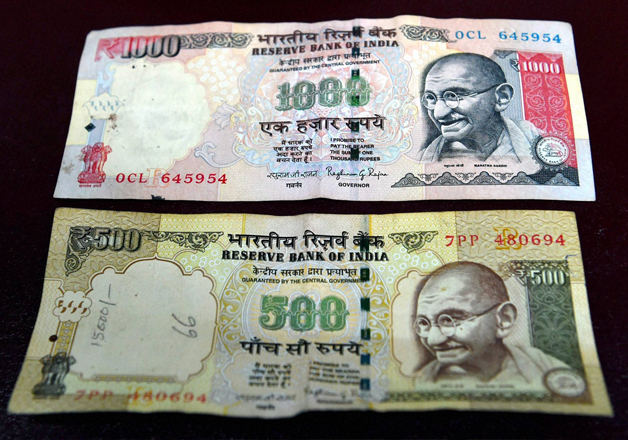 Welcoming Prime Minister Narendra Modi's announcement of demonetisation of Rs 1,000 and Rs 500 notes, Union Home Minister Rajnath Singh late on Tuesday night said that the decision has given a big blow to the blackmoney and counterfeit currency. 
In a statement, Singh described the Prime Minister's decision as 'courageous and bold' and said India's fight against corruption and terrorism will now be strengthened with demonetisation of Rs 1,000 and Rs 500 notes. 
"By doing away with Rs 1,000 and Rs 500 notes, the Prime Minister has dealt a big blow to the flow of counterfeit currency and blackmoney in Indian economy," he said. 
Terming it a 'surgical strike on corruption and black money', several other Union Ministers hailed the Prime Minister's announcement.
"SurgicalStrike by Shri @narendramodi ji on corruption and black money. Join your hands in #IndiaFightsCorruption," tweeted Information and Broadcasting Minister M Venkaiah Naidu. 
MoS I&B Rajyavardhan Rathore was also quick to laud the Prime Minister's decision. 
"Revolutionary & Solid measure to root out spectre of Black Money.India stands behind PM @narendramodi ji spearheading reign of transparency," he tweeted. 
HRD Minister Prakash Javadekar too joined in to appreciate the move. 
"This is surgical strike on corruption, fake currency and black money. This is real independence for common man and uncorrupt majority," he said in a social media post. 
Hailing the move, Tourism and Culture Minister Mahesh Sharma tweeted, "A historic step to fight corruption, black money and terrorism. All Rs. 500 & 1000 note are no more legal tender." 
Underling that everyone under the leadership of Modi was feeling secure in the country, he said the initiatives to stop black money, after the surgical strikes, show the courage of the Prime Minister. 
Meanwhile, Delhi Chief Minister Arvind Kejriwal did not react to the development immediately, but retweeted West Bengal Chief Minister Mamata Banerjee's tweet in which she termed the Centre's move to withdraw Rs 500 and Rs 1,000 notes as "draconian". 
As part of sweeping steps to battle black money, the Prime Minister yesterday announced that Rs 500 and Rs 1,000 currency notes will cease to be legal tender from midnight of Tuesday. In a televised address, he said that all the 500 and 1,000 denomination notes can be deposited in banks and post offices between November 10 and December 30.
They can also be exchanged across the bank counters by showing government-issued ID proof.