Follow us on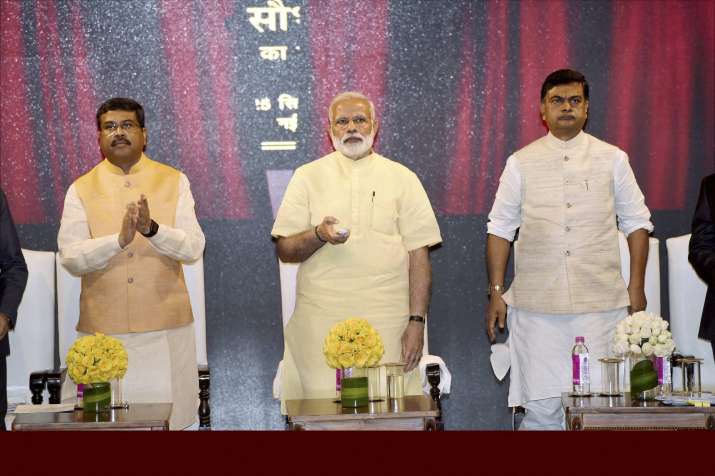 Prime Minister Narenda Modi today launched a Rs 16,000-crore scheme to provide electricity to over 4 crore households that are without power connection by December 2018. 
Pradhan Mantri Sahaj Bijli Har Ghar Yojana 'Saubhagya' launched on the birth anniversary of Hindutv icon Deendayal Upadhyaya will entail free electricity connections to poor households just like five crore free LPG connections being given to poor women. 
Modi said that his government is committed to upliftment of the poor and had launched several scheme ranging from Jan Dhan Yojana for opening zero balance bank account to Mudra Yojana for loan without guarantee to small and medium entrepreneurs were aimed at that. 
"Rs 16,000 crore will be spent to bring a monumental change in the lives of the poor," Modi said while launching the 'Saubhagya' scheme here. 
The prime minister regretted that even after 70 years of independence 4 crore out of 25 crore families did not have access to power. 
Under the scheme, the government proposes to provide electricity to all households by December 2018, ahead of the earlier target of March, 2019. 
All villages would be electrified by December this year ahead of the scheduled deadline of May 1, 2018. 
"This is a reflection of working style and will power," Modi said adding, power connection will be provided free of cost to all poor families under the scheme. 
He said that earlier there used to be breaking news regarding power outages and shortage of coal to power plants but now situation has changed and the nation is moving from a scenario of power shortage to surplus. 
On the occasion, Power Minister R K Singh said that a proposal which would seek to take discoms to task for load shedding in cases other than technical faults, natural calamities or accidents, would soon be placed before the prime minister for approval. 
Singh said that all those electricity board and discoms which would do load shedding without genuine reasons would be fined. 
The minister also talked about shifting to prepaid electricity connections where people are able to recharge in Rs 50 or Rs 100 denomination just like in case of mobile phones. 
The prime minister also called upon ONGC to use its Rs 100 crore start up funds to develop user friendly electric cooking appliances saying it would help in reducing the fuel consumption. 
According to an official statement, the total outlay of the 'Saubhagya' project is Rs 16,320 crore while the Gross Budgetary Support (GBS) is Rs 12,320 crore. 
The outlay for the rural households is Rs 14,025 crore while the GBS is Rs 10,587.50 crore. For the urban households the outlay is Rs 2,295 crore while GBS is Rs 1,732.50 crore. The Centre will provide largely funds for the scheme to all States/UTs. 
The beneficiaries for free electricity connections would be identified using Socio Economic and Caste Census (SECC) 2011 data. 
However, it said that un-electrified households not covered under the SECC data would also be provided electricity connections under the scheme on payment of Rs 500 which shall be recovered by DISCOMs in 10 instalments through electricity bill. 
The Rural Electrification Corporation Limited (REC) will remain the nodal agency for the operationalisation of the scheme throughout the country. 
The government has been working hard to electrify all villages in the country and also want to achieve 24X7 power for all by March, 2019, the statement said. 
In 2015, the prime minister had announced to electrify the remaining 18,452 unelectrified villages in 1,000 days in his Independence Day speech. However, the Power Ministry is expected to electrify all habited villages by December this year. 
According to GARV portal, out of the 18,452 villages, 14,483 villages have been electrified so far. The electrification work is in progress on 2981 villages while 988 villages are uninhabited. 
The portal also indicates that out of the 17.92 crore households in rural areas, 13.87 crore families have got electricity connections. As many as 4.05 crore families are yet to be provided electricity connections.