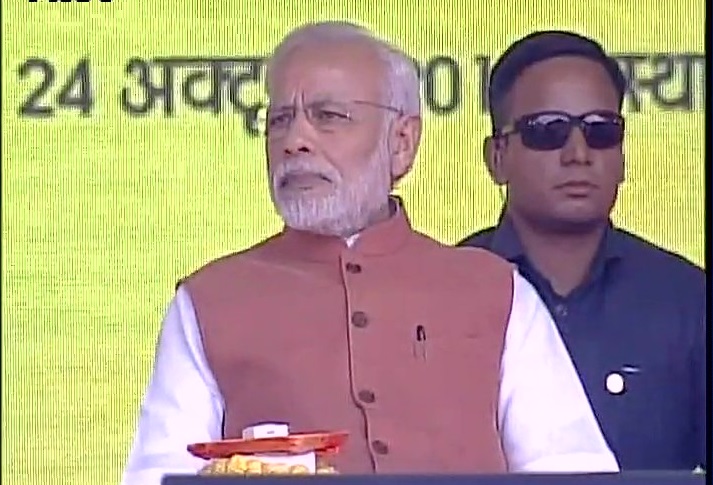 Prime Minister Narendra Modi today lauded the valour of the Indian Army in conducting surgical strikes across the Line of Control targeting terror launch pads operating from Pakistan occupied Kashmir. He was in his Lok Sabha constituency Varanasi ahead of the state Assmeby elections scheduled for next year. 
"People celebrated 'Çhoti Diwali' on September 29," PM Modi said, referring to the surgical strikes carried out by the Army on that day. "When our Army showed valour across the border, the whole of Varanasi erupted with joy. I thank you for that," he added.
Modi also expressed happiness and pride in the manner in which the entire nation extended its support and paid tributes to the Army for their bravery and service to the nation.
On Saturday, PM Modi had made an impassioned appeal to people, asking them to send Diwali wishes to the jawans. "We must convey that we are proud of them every minute of the day," he said.
Talking about his #Sandesh2Soldiers campaign, PM Modi said: "With this campaign 1.25 billion people of the country will able to convey to the army and our jawans that they are with them."
He also requested Indian citizens to send Diwali greetings to Indian armed forces through the Narendra Modi app.
In Varanasi, Modi launched a number of ambitious projects including a 1,500 km long gas pipeline costing Rs 51,000 crore and doubling of railway tracks on a busy route during his eighth visit to his Lok Sabha constituency in Varanasi today.
With gas pipeline project, 'Urja Ganga', PM Modi promised to provide piped cooking gas to residents of Varanasi within two years and, in another year thereafter, cater to millions of people in states like Bihar, Jharkhand, West Bengal and Odisha.
While addressing the gathering, PM lauded the government's efforts in implementing new schemes and said: "Schemes must be implemented and inaugurated on time, there must not be any delay in this and that is what my government is doing,"
PM Modi's visit to the city comes at a time when Assembly elections in Uttar Pradesh are just a few months away and political temperatures are soaring. 
The BJP, which had swept the Lok Sabha elections more than two years ago, winning 71 of the 80 seats in Uttar Pradesh, is seeking to make a comeback by wresting power after 15 years from the ruling SP.