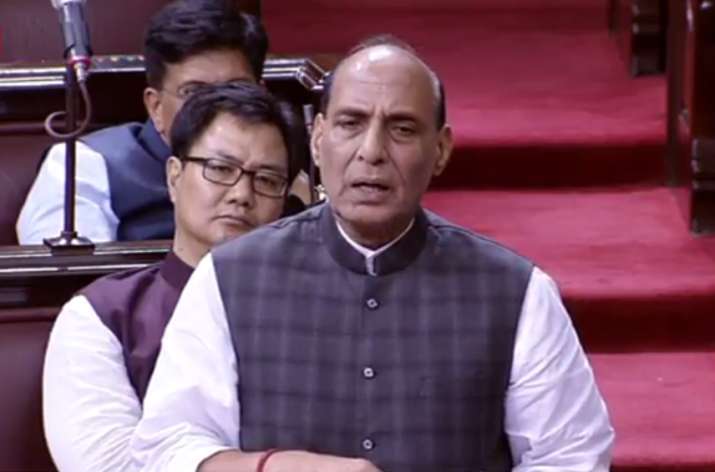 New Delhi: As the curfew continued for the 10th consecutive day in Kashmir, Home Minister Rajnath Singh on Monday accused Pakistan of sponsoring unrest in the Valley. 
Responding to the questions raised by opposition members during debate on Kashmir issue in Rajya Sabha, Rajnath said, "Whatever is happening (in Kashmir), it is totally sponsored by Pakistan. The name is Pakistan (holy land) but the activities are all napak (unholy)." 
Rajnath questioned the intention of Pakistan while interfering in internal matters of India. 
"Terrorist was killed here and Pakistan is interfering in our internal matters. If that was not enough, Black Day is being observed in Pakistan after death of terrorist. This is the condition, and the name is Pakistan (holy land)," he added. 
Rajnath Singh warned Paksitan of not to worry about Muslims of India and said, "Will Pakistan become the saviour of Islam? Pakistan was created on basis of religion but broke into two parts. It does not need to worry about Indian Muslims. Indians will worry for them." 
On the issue of use of "excessive force" during the protests by Kashmiris, Rajnath said that he has asked forces not to use lethal weapons and use restraint while using force. 
"I want to inform everyone that I called the Jammu and Kashmir government asking everyone to exercise as much restraint as possible. We had asked forces to not use lethal weapons," Singh informed the Parliament. 
He added that the government would show strength against militants but sympathy towards common people of Kashmir. 
Earlier in the day, Opposition in the Rajya Sabha pressed for holding an all-party meet to discuss the issue and pitched for a political solution rather than using "barrel of the gun" while dealing with the unrest. 
During a short-duration discussion on the Kashmir situation, Leader of Opposition Ghulam Nabi Azad said while his party stands with the Modi government and the coalition in the state in dealing firmly with militancy, the "excessive use" of force against the common citizens, including children and women, is not acceptable. 
He underlined that Kashmir cannot be ruled "through the barrel of the gun or bullets" and demanded that responsibility be fixed for "excessive use" of force. 
"Right now, we need to say that Kashmiris are ours, but everyone says that Kashmir is ours," Azad said. 
He also demanded all-party meeting on the issue. 
Congress MP Karan Singh, who hails from the state, suggested talks with separatists and said, "You have got to face the truth with dialogue, It must be a dialogue that cuts cross all barriers, with all stakeholders, There are stakeholders in Jammu and Ladkah also, not only in Kashmir. Within the valley there are mainstream political parties, there are regional parties, there are even separatists parties, you must talk to them." 
For last 10 days, Kashmir Valley has been under curfew after violence in valley following the death of Hizbul Mujahideen militant Burhan Wani. 
In the ensuing clashes with security forces, 39 persons including a cop have been killed while 3160 persons including 1500 security force personnel have been injured.