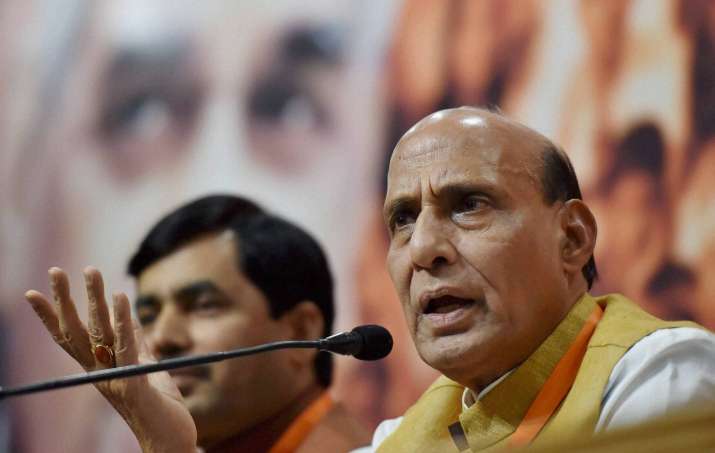 Thowra/Moran (Assam): Union Home Minister Rajnath Singh has said that for the first time, Pakistan has acknowledged that the terror attack in Pathankot had its roots in that country.
"Pakistan had been continuously saying that it has no involvement in militant and terror activities in India. But now it has acknowledged the Pathankot attack and filed an FIR. Their (probe) team has come here and our team is going to Pakistan," Singh said on Wednesday.
"This is due to Prime Minister Narendra Modi's astute and positive political capability. All the countries of the world are acknowledging that India's strength is increasing. Modi has established India's importance in the global scenario," Singh added.
Accusing Congress of continuously misleading the people of the country, he said, "I have been in politics all my life, but I don't indulge in the politics of misleading people of the country. I don't do politics like Congress."
The terrorist attack on the Pathankot Airbase in Punjab on January 2 claimed the lives of seven security personnel in a gun fight that lasted over 48 hours.
The Joint Investigation Team (JIT) of Pakistan, which comprises officials from Pak agencies including ISI, is in India to gather evidences to take their probe further.
India yesterday said that the visiting JIT had been provided documents and evidence regarding the Pathankot IAF base. The Indian authorities said that their probe team would also visit Pakistan soon.
Pakistan had detained some suspects in the case, the NIA said after a meeting with the five-member Pakistani team that had come to investigate the case and visited the airbase.
According to reports available with India TV, the JIT told Indian authorities that Maulana Masood Azhar, the chief of Pakistan-based terror organisation Jaish-e-Mohammed (JeM) and believed to have plotted the ghastly attacks on the Pathankot air base on January 2, is no longer in the custody of security agencies in Pakistan.
The JIT, however, informed that Azhar was taken into protective custody but released later as there was no evidence to link him to the attacks. The JIT has further informed the NIA that Azhar was questioned thrice after the attack. He was kept at a safe house and his family members were also questioned.