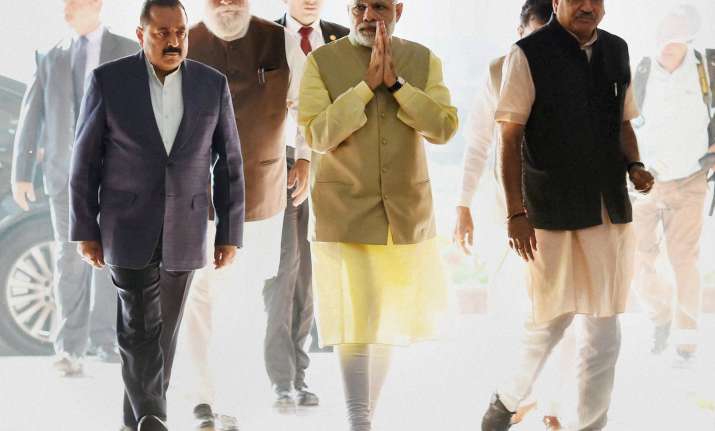 Prime Minister Narendra Modi on Wednesday claimed that over 90 per cent of the 5,00,000 people who participated in an online poll supported the Centre's demonetisation move. 
The Prime Minister said that only 2 percent viewed the demonetisation negatively.
The survey was conducted on Narendra Modi app, results of which were shared by PM on Twitter. 
The respondents were from 2000 different locations, with 93 percent of them in India. Of those who participated, 24 percent of those surveyed had responded in Hindi.
"I thank people for the historic participation in the survey. Its satisfying to read the insightful views & comments," PM Modi said on Twitter.
I thank people for the historic participation in the survey. Its satisfying to read the insightful views & comments. https://t.co/xf14LEiQHT pic.twitter.com/cGSBPlCnE5

— Narendra Modi (@narendramodi) November 23, 2016
PM's website www.narendramodi.in shared some of the points of the survey. 
1. In just over 24 hours of the survey, more than five lakh people have participated and expressed their opinion. This is a staggering number by any stretch. No opinion survey conducted in India, on such policy or political issues, even comes close to sampling so many responses.
2. More than 90 pc of the respondents feel the government's move to tackle black money is above four-star rating. 73 pc of them give it five-star rating of brilliant.
3. On the overall fight against corruption, more than 92 pc of respondents either rate the government as very good or good. 57  pc of them rate the fight as Very Good.
4. More than 93 pc people support the move to demonetize the old 500 and 1000 rupee notes. Of the over 5 lakh responses so far, only 2% have rated the move as very poor or one star.
5. As high as 86 pc people believe that some so called anti corruption activists are now actually batting in support of black money, corruption and even terrorist financing!
In an address to the nation on November 8, Prime Minister Narendra Modi announced the demonetisation of old 500 and 1000 rupee notes.
Opposition parties are united in opposing the government's move with Delhi Chief Minister Arvind Kejriwal even alleging the decision as a "big scam."
West Bengal Chief Minister Mamata Banergee, a strong opponent of the move and is leading the protest. 
Today, almost 200 MPs from various parties came together to protest against demonetisation outside Parliament.