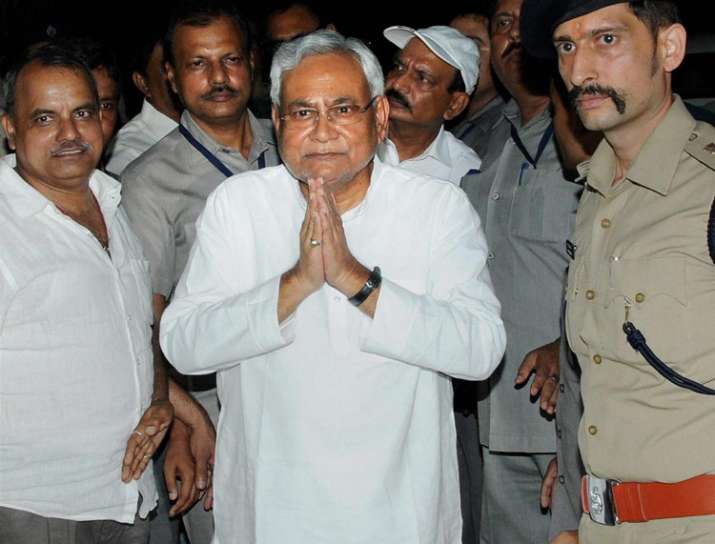 Hours after Nitish Kumar resigned as Bihar Chief Minister, it was clear on Wednesday night that he will be back as the head of the government in the state after 24 hours. He will take oath as Bihar CM at 5 pm on Thursday. Along with the Chief Minister, Sushil Modi will be sworn in as his Deputy while the Cabinet will have 28 ministers - 14 each from the BJP and the JD(U). 
The Bhartiya Janata Party (BJP) tonight handed over to Bihar Governor Keshri Nath Tripathi the letter extending support to Nitish Kumar for forming the next government. State BJP chief Nityanand Rai and senior party leader Sushil Kumar Modi drove to Raj Bhavan late this evening and handed over the letter. Modi later told reporters that BJP legislators were meeting at 1, Anne Marg residence of Kumar where lawmakers of the JD(U) were present to discuss their next move. Kumar is hosting a dinner for the legislators of the new coalition.
Leaders of the JD(U) and NDA constituents in the state are likely to meet the governor again tonight when Kumar will stake claim to form the government. Their meeting with the governor might get delayed as Tripathi has gone to IGIMS Hospital for a check-up for some ailment, Raj Bhavan sources said. Modi said BJP would be a part of the new government. 
Earlier in the evening, Nitish met the Governor to sumbit his resignation, thereby ending his 2-year-long association with the Rashtriaya Janata Dal (RJD) chief Lalu Prasad Yada with whom, along with the Congress, he had scored a landslide victory in 2015 Assembly elections. 
Bihar Assembly numbers: 
JD(U) has 71 MLAs in 243- member Bihar Assembly. Combined with the BJP's 53, LJP's 2, RLSP's 2 and HAM's 1, the combined strenght of the NDA will reach  129 in the House. 
On the other hand, Mahagathbandhan will now be limited to 107 members with RJD's 80 and Congress' 27 MLAs.