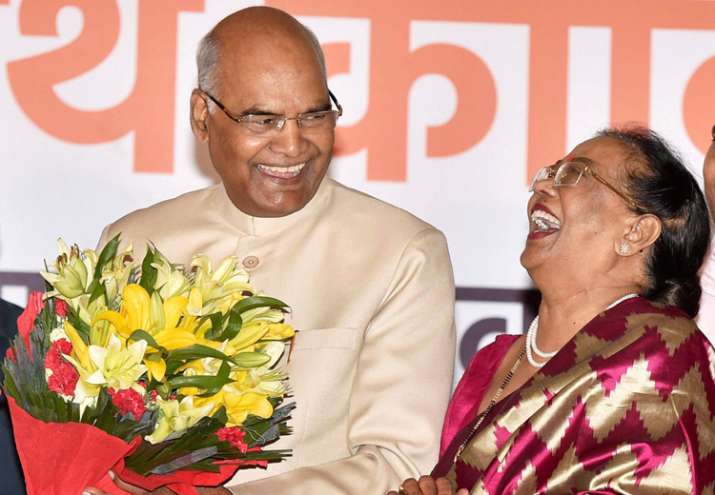 A visibly emotional President-elect, Ram Nath Kovind on Thursday said his election to the nation's highest post is a message to those discharging their duties with integrity. In his first comments after being declared victorious in the Presidential election 2017, Kovind said he will work towards protecting the Constitution and upholding its values, and will serve the nation to ensure happiness for all.
Former Bihar Governor Kovind who was supported by the NDA defeated Opposition's nominee Meira Kumar by securing 65.65 per cent votes in the election in which all elected MLAs and MPs are eligible to vote. Talking to reporters after being elected President of India Kovind also thanked his rival, and wished well for her future.
Here are the highlights of Ram Nath Kovind's first remarks after winning the presidential election:
* This is a very emotional moment. I neither thought I would be elected to this post, nor was this my aim. But my everlasting spirit to serve the society and my country has brought me here.
* My win is a message to those discharging their duties with integrity. 
* My election as the President is an evidence of the greatness of Indian democracy.
* My election to a position held by distinguished personalities like Rajendra Prasad, Sarvepalli Radhakrishnan, A P J Abdul Kalam and Pranab Mukherjee had given him a sense of huge responsibility.
* It is my duty to protect the Constitution and uphold its values as the President. 
* I pay my respects to my countrymen and assure them that I'll serve the nation in the spirit of 'Sarve Bhavantu Sukhinah' (May all be happy).
* It has been raining since morning in Delhi. This weather reminds me of my childhood days when I used to live in my ancestral village. We lived in a 'kuchha' house made of mud. The roof couldn't stop the water trickles during the rainy season. I, along with my brothers and sisters, used to stand in a corner and wait for the rain to stop.
* There would be so many Ram Nath Kovinds in the country today, getting drenched in rains, doing farm work, labour and sweating it out so that they can get their evening meals. 
* I want to tell them that this Ram Nath Kovind of Paraunkh village is going to Rashtrapati Bhavan as their representative
* I would like to thank the people of this country, all political parties and all the public representatives.