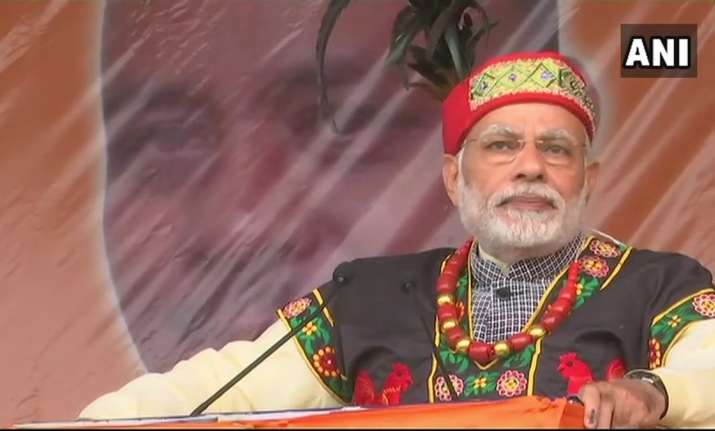 Inaugurating a hydroelectric project at Mizoram's Aizawl, PM Narendra Modi on Saturday said the Centre is committed to put all the state capitals of the northeast on the rail map and is executing 15 new projects in the region.
"We are committed to bring all the state capitals of the northeast region on the rail map. The government of India is executing 15 new rail line projects of 1,385 km length, at a cost of over Rs 47,000 crore," the prime minister said.
The prime minister will also be addressing public rallies and inaugurating various projects in Meghalaya, which he said will give a fresh impetus to the development journey of the northeast. Meanwhile, elaborate security arrangements have been put in place in Shillong for the prime minister's visit.
PM MODI ADDRESSED RALLY IN MEGHALAYA: AS IT HAPPENED
2:17 pm: During my last visit to Meghalaya in May 2016, I spoke about promotion of tourism in the state. We want to make Meghalaya a top tourism destination. The government of India has sanctioned around Rs 1,000 crores for development of tourist destinations in the state.
2:10 pm: After Morarji Desai, if any prime minister took part in a meeting of North-eastern council, it was me. Last year, I inaugurated the North-eastern council meeting in Shillong.
2:08 pm: The government is executing 15 new rail lines for nearly 14,000 km length, this will cost Rs 47,000 crore and boost infrastructure in the Northeast region.
2:07 pm: Across the Northeast the Union government has sanctioned around 4,000 kilometers of national highways, for an amount of over Rs 32,000 crore.
1:45 pm: It will boost economic activity and establish a direct link between the important towns of the state, Shillong and Tura. Travel time will be significantly reduced. Our motto is 'Transformation by transportation', says PM Modi on inauguration of Shillong-Nongstoin-Rongjeng-Tura Road.
12:50 pm: PM Modi arrives in Meghalaya's Shillong, inaugurates Shillong-Nongstoin-Rongjeng-Tura Road.
#WATCH: PM Narendra Modi addresses at a public rally in Shillong, Meghalaya. https://t.co/piOt8WVwry

— ANI (@ANI) December 16, 2017
PM NARENDRA MODI ADDRESSED RALLY IN MIZORAM: AS IT HAPPENED
10:41 am: Building a New India by 2022 requires us to work towards the twin goals of increasing economic growth as well as ensuring that the fruits of growth are shared by all.
10:40 am: We are betting on skills and strengths of India's youth. We believe in 'empower through enterprise'; which is creating the right ecosystem for innovation & enterprise to flourish so that our land is home to the next big ideas that can transform humanity.
10:40 am: The project was first cleared by Union Government of PM Vajpayee ji, way back in 1998 but got delayed. The completion of this project is a reflection of our commitment to complete ongoing projects and usher in a new era of development in the North Eastern region.
10:39 am: Under the Bharatmala project, we will build a network of highways and road in the Northeast region
10:26 am: During the tenure of Atal Bihari Vajpayee significant work was done for the development of the Northeast. We have taken forward this vision and are devoting resources for the progress of the Northeast. My ministerial colleagues are frequently visiting the Northeast.
Reached Aizawl. Looking forward to interacting with the people of Mizoram. pic.twitter.com/EaYzX6RfV7

— Narendra Modi (@narendramodi) December 16, 2017
10:25 am: You don't have to send your grievances to Delhi (central government), authorities from Delhi will come to you themselves, we have named this policy as Ministry of DONER (Ministry for Development of North Eastern Region).
10:24 am: My visit to this beautiful state today, brings back fond memories of time spent with the people of Mizoram.
10:23 am: PM Narendra Modi wishes people Merry Christmas and Happy New Year.
10:22 am: Tuirial hydropower project is the first major central government project to be successfully commissioned in Mizoram
10:12 am: PM Narendra Modi inaugurates Tuirial hydro power project in Aizawl.
09:30 am: "The completion of this project is a boon for the people of Mizoram," he said in another tweet.
09:10 am: The prime minister said, in Shillong, he will inaugurate the Shillong-Nongstoin-Rongjeng-Tura Road. The project will improve connectivity and further economic growth.
08:30 am: He will also address a public meeting in Meghalaya. We see immense potential in the Northeast and are committed to doing everything for the region's overall progress, the prime minister said. He added the Ministry of Department of Northeast Region has set up a Rs 100 crore Northeast Venture Capital Fund.
08: 10 am: "Tomorrow I will be distributing cheques to entrepreneurs from this fund. A spirit of enterprise among the Northeast's youth augurs well for the empowerment of the region," he said.