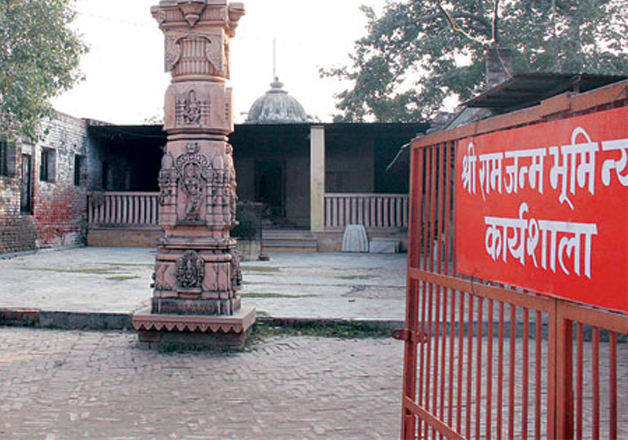 Chief Justice of India (CJI) JS Khehar's offer to mediate in the decades-old case of Ram Mandir today evoked mixed reactions from different quarters.
While the BJP favoured an amicable solution to the dispute, appellants disagreed with the CJI's advice of an amicable, out of court settlement. 
Ayodhya Matter: SC suggested & asked Swamy to sort out issue through negotiations which would be agreed upon by all petitioners&respondents

— ANI (@ANI) March 21, 2017
Here is a compilation of who said what: 
Subramanian Swamy, BJP leader
Masjid can be built anywhere, Namaz can be read anywhere... it can be read on the street. The Ram Janmabhoomi is for the Ram Mandir and it should be used for the Ram temple only.
Yogi Adityanath, CM, Uttar Pradesh 
I welcome the SC's observation. Settlement can be reached if parties decide to seat together and reach consensus. Whatever help is required from the government's end, will surely be extended. 
Mahesh Sharma, Union Culture minister 
CJI Khehar's offer to mediate in the Ayodhya case for an out of court settlement is a welcome move. It was in national interest. We have always stood for Ram Mandir through Constitutional means and court suggestion is welcome.
Also Read: Ayodhya dispute: SC advises 'amicable' solution to Ram Mandir issue, CJI offers to mediate
PP Chaudhary, MoS for Law and Justice
This is a very good step by the apex court. Even the BJP has been encouraging solving the issue through negotiations. It is a very good step to solve the issue by sitting together and negotiating.
Uma Bharti, Union Minister 
It is a welcome step by the Supreme Court, the matter I believe can be resolved out of court. Question of whether Lord Ram was born there or not, was settled by the three-judge bench of Allahabad High Court. Now it is a question of who owns the land. When the SC is asking for an out of court settlement, there will be a way. There was a way out for Somnath Temple. Can't say when it will be completed, but building can start anytime.
Its a welcome step by the Supreme Court, the matter I believe can be resolved out of court: Uma Bharti on SC Ayodhya matter pic.twitter.com/V4uJdJSLmi

— ANI (@ANI) March 21, 2017
Vinay Katiyar, BJP leader
I welcome SC's observation. We have government in UP and Centre, we all will find the solution after conversation.
Asaduddin Owaisi, AIMIM MP
Please remember Babri Masjid case is about title which the Allahabad High Court wrongly decided as a Partnership case. Hence the appeal in apex court. I hope Supreme Court decides the contempt petition pending since 1992. Waiting to hear about whether conspiracy charges will be held against BJP leaders LK Advani, Murli Manohar Joshi, Uma Bharati in Babri demolition case.
Supreme Court should start daily hearings of this matter and we will get a judgement: Asaduddin Owaisi on SC Ayodhya matter pic.twitter.com/j0kF5WONTj

— ANI (@ANI) March 21, 2017
Zafaryab Jilani, Convenor of the Babri Masjid Action Committee
An amicable solution is impossible. This has to be dealt in the court itself. After all, it is long pending in the court.
Negotiations have failed earlier, an out of court settlement is not possible :Zafaryab Jilani, Convenor, Babri Masjid Action Committee. pic.twitter.com/DfM0l5RDhA

— ANI (@ANI) March 21, 2017
Harishankar Jain, advocate of Hindu Mahasabha (a petitioner in the case)
No out of court settlement acceptable. Before approaching us, Subramaniyam Swamy should make sure that other side is ready to give its claim. We can't play with sentiment of Hindu community, no compromise possible on this issue. We will not give even an inch of land, like action committee, we too are not ready to relent. SC should go ahead with speedy trial in the case.
Ishwari Prasad, VHP zonal president for western UP and Uttarakhand
We will celebrate 'Ram Mahotsav' in 2 lakh villages across India and around 70,000 villages in UP. People will be told about the life of Lord Ram and we will also raise the demand for Ram Temple in Ayodhya. The temple must only be built on the exact spot where Ram was born. UP CM should not compromise on that. The VHP has said it will launch a movement called 'Ram Mahotsav' from March 26 to April 16.
Dattatreya Hosabale, joint general secretary, RSS 
'Dharm Sansad' has to decide. RSS will go with Dharm Sansad's decision. Issue should be settled and a grand temple should be raised with the support of all Indian.
A grand Ram temple should be erected with the total involvement of all Indians: Dattatreya Hosabale,RSS on SC Ayodhya matter. pic.twitter.com/ATqGvICUP7

— ANI (@ANI) March 21, 2017
Rakesh Sinha, RSS thinker 
The issue should be resolved by constructive dialogue. CJI observation could be a basis of further dialogue. I see this is a good development in SC.
Mohd Iqbal Ansari (appellant)
If matter is sorted with discussion we have no problem.
Dr SQR Ilyas, joint convenor, Babri Masjid Committee
Issue has to be settled on the basis of legal position not sentiments. We don't agree to that CJI can act as a mediator in this case. Allahabad HC has already given a judgment. Muslim Personal Law Board feels time of negotiation is over.
Jafaryab Jilani, convener, Babri Masjid Action committee
Attempts for out of court settlement have failed so far. We don't see any possibility of such a move. But if CJI is willing to monitor, then we are ok to it because it will come with some legal sanctity. It will not be like an agreement between 2 parties which is void of any legal status. We will convey our opinion to court. We also demand a day to day hearing of the case. Don't feel Supreme Court is under any political influence.
Sitaram Yechury, CPI(M) general secretary 
The matter went to court only because the matter was not solved through talks.
Baatcheet se masla nahi suljha tabhi to matter court mein gaya tha: Sitaram Yechury, CPI(M), on SC Ayodhya Matter. pic.twitter.com/wczrgXqpth

— ANI (@ANI) March 21, 2017