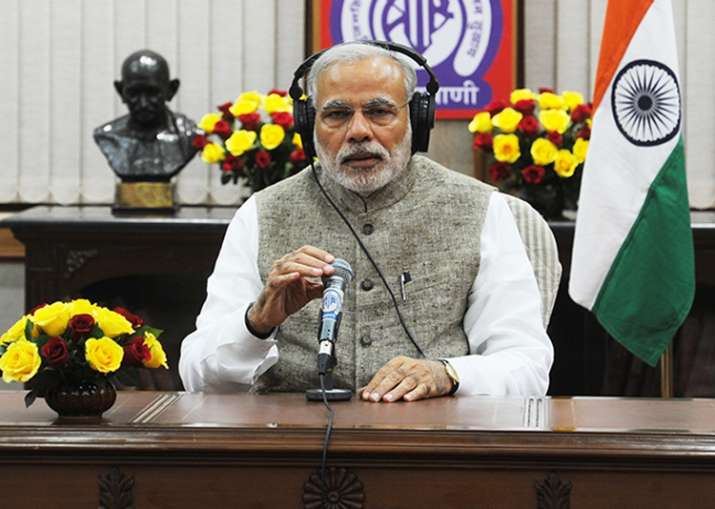 Terming the launch of 104 satellites by Indian Space Research Organisation (ISRO) in one go as a "shining example of India's pride," Prime Minister Narendra Modi on Sunday said the "historic achievement" has become a marvel for the entire world. 
"India has created history by becoming the first country to launch successfully 104 satellites into space at one go. And what is further heartening is the fact that this was PSLV's 38th successive successful launch. This is a historic achievement for not just ISRO but for all of India. This cost effective, efficient space programme of ISRO has become a marvel for the entire world; the world has admired this success of Indian scientists of India whole-heartedly," Modi said in his monthly "Mann Ki Baat" programme today. 
Hailing scientists for bringing laurels to the nation, Modi said, "Whether it is eradicating poverty, preventing diseases, connecting with the world, or disseminating knowledge and information, technology and science have made a mark for themselves."
He also called for increasing the attraction of Science in young generation saying the country needs more and more scientists. 
Remembering Dr. Babasaheb Ambedkar, the Prime Minister urged people to teach at least 125 persons how to use the BHIM app as the country recently celebrated 125th birth anniversary of the architect of the Constitution. 
"We have to go from door to door associating everybody in order to place the BHIM App in 125 crore hands. Since its beginning about two-three months ago, this movement has had a clear impact and has been a very big success in many townships, villages and cities," Modi said. 
He also urged those who have won prizes under 'Lucky Grahak Yojana' or 'Digi-Dhan Vyapar Yojana' to become ambassadors of these schemes on their own.
"Digital payments will help fight corruption and proliferation of black money," he said. 
Talking about agriculture, which makes a "very major contribution to the fundamentals of our country's economy," Modi shared that this year has resulted in a record production of food grains, breaking all previous records.
"There has been such bountiful crop this time in the fields of our farmers that every day has appeared to be a celebration of Pongal and Baisakhi. More than two thousand seven hundred lakh tonnes of food grains have been produced in the country this year. This is 8 percent more than the last record set up by our farmers. Thus, it is an unprecedented achievement in itself,"  Modi said in his popular radio programme. 
He also congratulated the Indian blind cricket team on winning the World Cup by defeating Pakistan in the final and appreciated the performance of 'divyang' players in Rio Paralympics. 
"We all hailed the commendable performance by our Divyang Players at Rio Paralympics. India defeated Pakistan in the final of the Blind T-20 World Cup held earlier this month to become World Champions for the second consecutive time and thus raised our national prestige to a new height. I once again congratulate all players of our team. The country is really proud of these Divyang friends for their achievement," he said.  
Talking about the International Women's Day, which will be celebrated on March 8, Modi said more importance needs to be given to our daughters along with increased awareness and sensitivity towards them.
"'Beti Bachao - Beti Padhao' movement is moving forward with rapid strides. This is no longer just a government programme. It has now become a campaign of societal empathy and public education," he said.