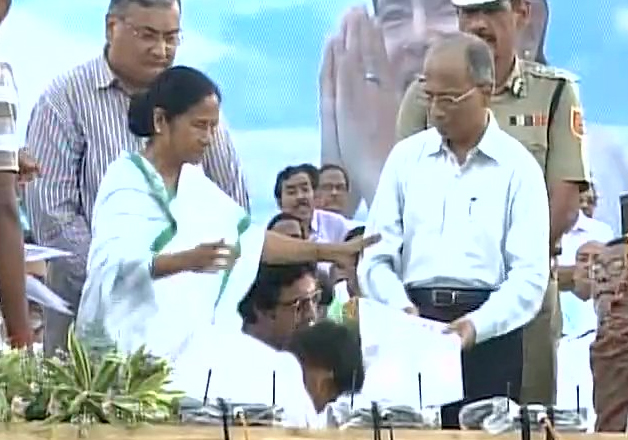 Following the Supreme Court's order cancelling the Singur land acquisition, West Bengal Chief Minister Mamata Banerjee will today compensated 800 farmers and also distributed 9,117 land records. 
The Trinamool Congress (TMC) chief honoured her promise of giving land back to the farmers by formally handing over of the 'land parchas', which she had made during the 2011 Assembly polls campaigning, at the height of the Singur movement. 
However, Pradip Bhattacharya, former state Congress president, raised questions on the government's move, saying that the decision to distribute the cheques was alright but there was no clarity on the fate of the land. 
"This government has decided to distribute the cheques to unwilling farmers and the Chief Minister herself would be going there to do so. That is one part of this story. But the other part of the story is what would be the fate of the land," said Bhattacharya. 
"It is fine that now they are distributing the cheques. Why they delayed this for six months? Who suffered because of all this? It's the Bengal people. Therefore, I do not understand for how long this drama would continue," he added. 
After a prolonged legal battle, the Supreme Court had, on August 31, ruled that the land acquisition process in Singur was faulty and directed that it be returned to the farmers within 12 weeks. 
When the parchas are distributed among 9,117 farmers, Banerjee can take comfort in the fact that her stance on land acquisition stands vindicated. 
Of the total 997 acres of land in Singur, the district administration has completed the survey and demarcation work for 620 acres and 800 cheques are ready for distribution among the land-owners, Banerjee told reporters at the state secretariat yesterday. 
She said altogether, 9,117 parchas were ready for distribution among the farmers on September 14 when 'Singur Diwas' would be observed. 
Singur holds a special place in Banerjee's political career as it was on this issue that she had held a 26-day fast in 2010. 
TMC vice-president Mukul Roy told PTI, "When the chief minister hands over the land parchas tomorrow, it will show that Mamata Banerjee and the TMC know how to keep their promises. We are not like other political parties who forget their promises after coming to power. It will also establish that our stand on forcible land acquisition was correct."
Another senior TMC leader said, "We honour our political promises and Singur is the biggest example of that. This is the Bengal model we hope to propagate throughout the country before the 2019 Lok Sabha polls. 
(With PTI inputs)