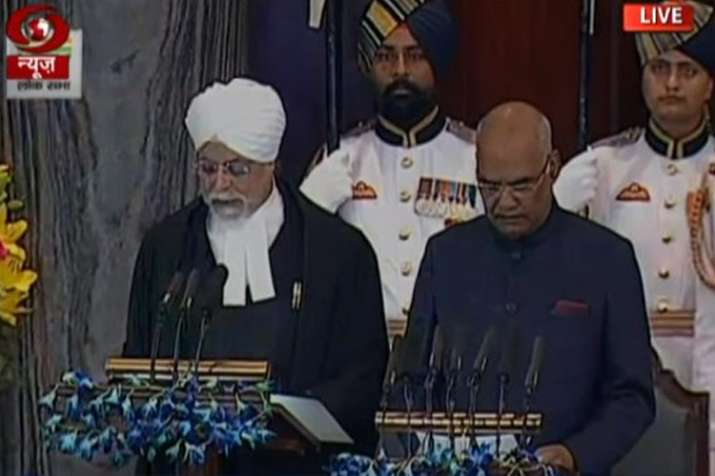 Ram Nath Kovind was today sworn in as India's 14th president, the first BJP leader and the second Dalit in the Rashtrapati Bhavan. 
Kovind was administered the oath of office to "preserve, protect and defend the constitution and law" by Chief Justice of India J S Kehar in an impressive ceremony in the Central Hall of Parliament.
The 71-year-old took oath in Hindi to thunderous applause and thumping of desks by the gathering, including Vice President Hamid Ansari, Lok Sabha Speaker Sumitra Mahajan, Prime Minister Narendra Modi, outgoing President Pranab Mukherjee and former president Pratibha Patil.
Former prime ministers Manmohan Singh and H D Devegowda, UPA chairperson Sonia Gandhi, former Lok Sabha speaker Meira Kumar, former deputy prime minister L K Advani as well as Union ministers and foreign dignitaries were also present on the occasion. 
After he took oath, Kovind was given a 21-gun salute to mark the assumption of office of the highest constitutional post in the country.
After taking oath as the 14th President of India, Ram Nath Kovind delivered his maiden speech at the Parliament, in which he highlighted mutual respect as the essence of democracy. 
"I thank you for electing me to the responsibility of the President of India, and I enter this office with all humility. I have been a Member of Parliament and here, in this very Central Hall, have had discussions with many of you. Often we agreed, sometimes we disagreed. But we learnt to respect each other. And that is the beauty of democracy," President Kovind said at the swearing-in  ceremony. 
Kovind said that unity in diversity is the strength of India with various religions, culture and traditions forming the basis.
"We are different but we are one and united. These are the traditional values and there is no contradiction or alternative opinion about it," he said in a speech in Hindi after being administered oath by CJI J S Khehar. 
"We need to sculpt a high growth economy, an educated, ethical and shared community and an egalitarian society as envisioned by Mahatma Gandhi and Deen Dayal Upadhyay," he said, adding there was need for integrating the values of the old with modern science. 
71-year-old Kovind asserted that a nation grows when the development for all is ensured. 
"I come from a very simple background and the journey has been long. I grew up in a mud house, in a small village. I am very proud of our diversity, inclusive growth is way forward," he said. 
He added that India needs to sculpt a robust, high growth economy, an educated community, and an egalitarian society as envisioned by Mahatma Gandhi and Deen Dayal Upadhyay.
The newly-elected President said that he feels privileged to walk on the same path as Dr Radhakrishnan, Dr Abdul Kalam and Pranab Mukherjee. Prime Minister Narendra Modi congratulated Ram Nath Kovind on becoming the 14th President of India. 
PM Modi appreciated Kovind's maiden speech as the President, saying that it beautifully summed up the essence of India's essence, democracy and diversity.
Kovind was elected with 65 per cent of votes defeating Meira Kumar to occupy the top post. 
The 71-year-old leader born in Kanpur, Uttar Pradesh, had also earned the support of the JD(U), which broke ranks with the "mahagathbandhan" because of his non-confrontational approach as governor of the state. 
A commerce graduate, Kovind studied law at the Kanpur University, practised in the Delhi High Court and the Supreme Court. He was also the central government's standing counsel in the apex court from 1980-93. 
Kovind, who headed Dalit Morcha from 1998 to 2002, also led the All-India Koli Samaj. 
Elected to the Rajya Sabha in April 1994 from Uttar Pradesh, he served two consecutive terms till March 2006. Outgoing Mukherjee bows out of public life after a five-decade political career.