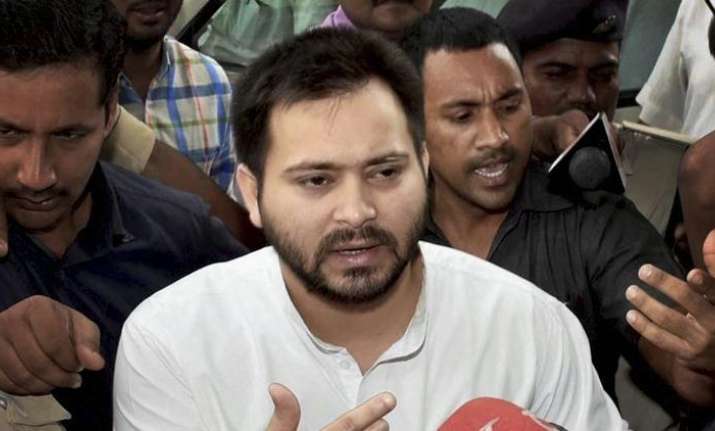 RJD chief Lalu Prasad Yadav's son and Bihar's deputy chief minister Tejashwi Yadav on Tuesday alleged that his father was a victim of political ill-will of Bharatiya Janata Party (BJP) because he dared to go against it.
Reacting to Lalu Yadav's conviction in fodder scam, Tejashwi claimed that his father would have been depicted as most honest man if he had been a BJP ally. "Lalu ji would have been 'Raja Harishchandra' for BJP if he had allied with them," he said on Tuesday.
"Opponents think Lalu Yadav is finished after going to jail. They are hugely mistaken. People of Bihar are outraged, they will give a strong reply to this," the RJD leader added.
A special CBI court in Ranchi recently convicted RJD chief and 15 others in a fodder scam case, 21 years after it had surfaced, while acquitting six others, including former Bihar chief minister Jagannath Mishra.
Despite the conviction, the RJD chief's family continues to express faith in his innocence.
Talking to reporters a day after the court's decision, Rabri Devi asked the party workers to have faith and not be disheartened. "They should remember 'bhagwan ke ghar der hai andher nahin' (there is delay in divine dispensation, but not injustice)," she said.
Meanwhile, Prasad's elder son and party MLA Tej Pratap Yadav tried to put up a brave front saying, "Lalu is not the name of a person, but that of an ideology. We have no worries. He will get justice and come out of jail soon".
Prasad, whose quantum of sentence is expected to be announced on January 3, has been sent to a jail in Ranchi.
Lalu a victim of "political ill-will" : Tariq Anwar
Senior NCP leader Tariq Anwar also alleged that the conviction of RJD supremo Lalu Prasad in a fodder scam case was the result of "political ill-will" and the CBI had "worked under pressure".
"Whatever has happened to Lalu Prasad is an outcome of rajneetik dwesh (political ill will). But he is bound to get relief from the High Court when he appeals against the trial court's decision", Anwar said.
Anwar alleged "Madhya Pradesh witnessed such a huge Vyapam scam. But we did not see any serious action. This makes one suspect that there could have been more to Yadav's conviction that meets the eye and the CBI had worked under pressure in his case".