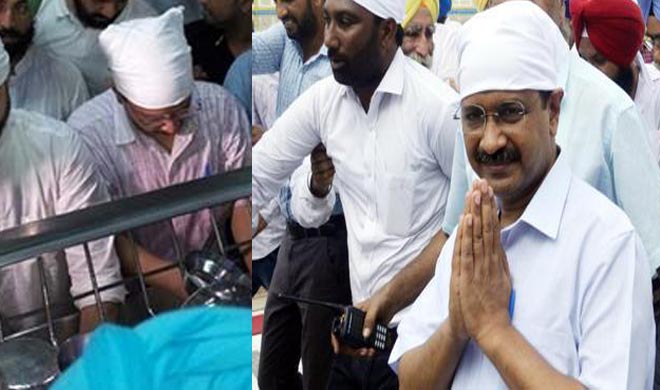 Amritsar: Delhi Chief minister Arvind Kejriwal today washed dishes at Golden Temple as an apology for what his party's political gaffe for equating a manifesto with the Guru Granth Sahib and printing its symbol, the broom, on the cover of the document alongside a picture of the holiest Sikh shrine.
But the Chief Minister landed himself in new controversy after he was seen cleaning already clean utensils, inside the Golden Temple complex here early on Monday.
Among the other AAP leaders present there were Ashish Khetan, lawyer HS Phoolka, AAP MPs Bhagwant Mann and Sadhu Singh, actors and AAP members Gul Panag and Gurpreet Ghuggi and others.
"While releasing the `Youth Manifesto` of the party, we had committed some mistakes unintentionally. To seek forgiveness, we have done sewa at Darbar Sahib," Kejriwal, who was at the shrine complex for nearly one hour, told media after performing the service.
Kejriwal had promised to come to the Golden Temple and seek forgiveness for what he called, "an unintentional mistake".
With folded hands and a handkerchief covering his head, Mr Kejriwal went around the shrine complex, offered prayers and later cleaned utensils at the "Langar hall" or the community kitchen which serves food to over one lakh people in a single day.
However, he was careful enough to not pick up broom as it may spark further controversy.
The AAP chief was at the temple for about 45 minute.
Kejriwal and others also partook of langar (community food).
The AAP, and Kejriwal, had faced criticism from the Sikh community, Punjab`s ruling Shiromani Akali Dal, Shiromani Gurdwara Parbandhak Committee (SGPC) and radical Sikh organisations for the goof-up. Even protests were held against the AAP which hat put high stakes in the state Assembly Elections due next year.
This was Kejriwal`s second visit to the Sikh shrine within 15 days
AAP leader Ashish Khetan was also booked by the Punjab Police on charge of hurting religious sentiments of the Sikhs by equating the manifesto with Guru Granth Sahib, the Bible and the Gita. Apologies by Khetan and the AAP over both controversies were rejected by the Akali Dal, opposition Congress and the SGPC.