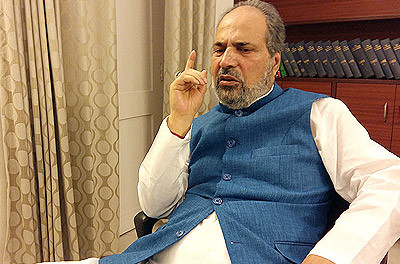 Muzaffar Hussain Baig, senior PDP leader and former deputy chief minister of Jammu and Kashmir, has warned that the ongoing unrest in Kashmir is fast turning into 'religious extremism' which is being driven by a religious vision and not any political goal.
According to a report in Times of India, the PDP leader believes that the present violence in Kashmir is on the verge of a joining a global religious war being led by the Islamic State (ISIS) which calls for setting up a 'Muslim caliphate' across the world.
Baig pointed out that the present struggle in Kashmir is different from three preceding stages of the conflict as it is fast becoming a part of world vision for the revival of 'Muslim Caliphate'  and hegemony of religious extremism.
Explaining his point, he said that while the first stage of struggle, from 1953 to 1975, was focused on the release and reinstallation of Sheikh Abdullah on the seat of power, the second stage, from 1975 to 1987, was aimed at regaining autonomy.
"The third stage, which I call the deepest cut, came when the 1987 elections were rigged unabashedly. It converted Yusuf Shah, who was an election candidate, into Syed Salahuddin ,chief of Hizbul Mujahideen and United Jihad Council, and Yasin Malik from a young boy to a symbol of independent Kashmir. Nevertheless, the objective, whether `azadi' or accession to Pakistan, was political," Baig was quoted as saying by Times of India .
The fourth and present stage, according to Baig, is entirely different as it is simply guided by a vision under which Muslims can't live in a Hindu state.
"This, the fourth stage in the struggle of Kashmir, is in danger of becoming religious extremism, which is not a political goal but a religious vision; that Muslims must have their own state and they cannot live in a Hindu state, " Baig added.
Baig further said that when terrorism hit Kashmir in 1990 when thousands of Kashmiri Muslims and hundreds of Kashmiri Pandits were massacred, it was still a part of the local struggle.
However, according to him, things have changed this time as religious extremism is infecting the hearts and minds of youths.
"Even women are participating in the struggle, not in a big way, but since the excessive use of force and pellet guns, they've started coming to the centre stage," he said.
Baig said that since the present unrest is entirely new in its character, it calls for a defter strategy than hitherto deployed in Jammu and Kashmir during earlier phases of violence.