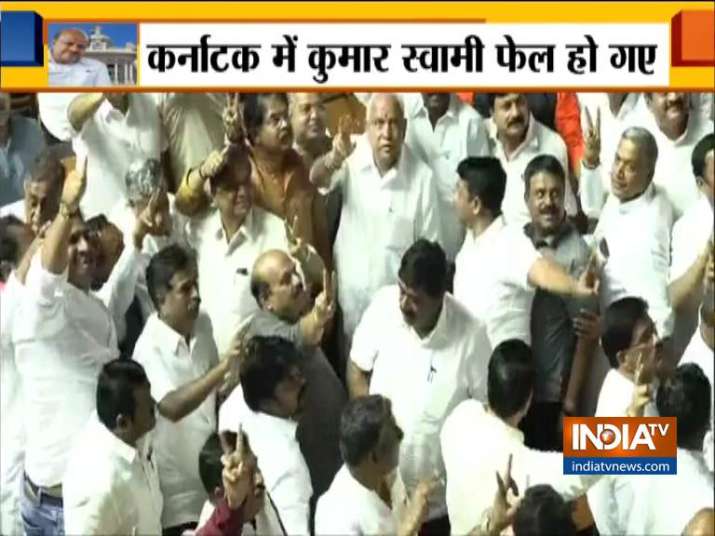 The 14-month-old Kumaraswamy government in Karnataka lost the trust vote, ending days of suspense over the dramatic sequence of events in the state. The ruling Congress-JDS coalition managed to get 99 votes in their favour, while Opposition BJP got 105 votes. 
Since HD Kumaraswamy has failed to prove majority on the floor of the house, he handed over his resignation to the Governor. The Governor has accepted his resignation and the onus is now on BJP to show their numbers. 
Earlier on Tuesday, a miffed Speaker asked Congress Legislature Party (CLP) leader Siddaramaiah how much more time the ruling allies would need to conclude the debate on the motion for the floor test.
When the former chief minister said the ruling allies would complete the debate by 6 pm for the floor test by 8 pm on Tuesday, the Speaker advanced it (trust vote) by 6 pm and to end the debate by 4 pm. Endless such deadlines were surpassed in the Karnataka drama. 
Here are the updates from the day:
21:13: BJP Karnataka President, BS Yeddyurappa: I will discuss with Prime Minister & our President Amit Shah ji, afterwards I will go & meet Governor. We are going to have a legislature party meet now.
21:00: KC Venugopal, Congress: The coalition government in Karnataka was brought down by the nefarious joint efforts of the Central Government, Governor, State Government of Maharashtra and Central BJP leadership. Congress party will hold nation wide protests against the immoral, blatant and brazen political destabilization carried out by the Bharatiya Janata Party.
20:51 | Karnataka Governor Vajubhai Vala accepts HD Kumaraswamy's resignation
20:48 | HD Kumaraswamy submits his resignation to Karnataka Governor, Vajubhai Vala.
20:05 | Jagadish Shettar, BJP: Their (rebel MLAs) resignations have not yet been accepted by Speaker, after acceptance of resignations they have to decide whether to join BJP or not. In present scenario we have 105 MLAs, it is a majority for BJP, we will form a stable government.
20:04 | After losing trust vote, HD Kumaraswamy seeks appointment of Karnataka Governor Vajubhai Vala.
20:01 | BJP will prove its majority, says Yeddyurappa as Kumaraswamy loses trust vote
20:00 | Yeddyurappa calls Kumaraswamy's loss a "victory of democracy"
19:55 | Congress leader HK Patil: Congress-JD(S) failed trust vote. This defeat is because of betrayal of our party legislatures, we have come under the influence of various things. I am people of Karnataka will not tolerate this type of betrayal to the Party.
19:42 | 14-month-old HD Kumaraswamy govt in Karnataka loses trust vote
19:39 | Ruling coalition gets 99 votes, BJP 105
19:36 | Votes of BJP members are now being counted in Karnataka assembly. Kumaraswamy's fate to be decided shortly
19:30 | Votes being counted in Karnataka assembly
19:24 | Floor test begins in Karnataka assembly.
18:55 | I'm not going to run away after speech; we will go for vote and let the votes be counted: Kumaraswamy
18:33 | My government is not "shameless," says Kumaraswamy. 
18:25 | The floor test has still not happened. 
18:00 | Kumaraswamy says he will be happy to give up the chief minister's post, in his emotional speech. He adds, "Don't call me a traitor. I worked honestly."
17:55 | Prohibitory orders imposed in Bengaluru in the aftermath of protests on Race Course road. Section 144 imposed
#WATCH Karnataka: Congress workers protest outside an apartment on Race Course road in Bengaluru alleging that independent MLAs have been lodged here. pic.twitter.com/sNyTnr6bZR

— ANI (@ANI) July 23, 2019
Bengaluru Police Commissioner Alok Kumar: Today and tomorrow we are imposing Section 144 across the city.All pubs, wine shops will be closed till 25th. If anyone is found violating these rules, they will be punished pic.twitter.com/3De7410mDe

— ANI (@ANI) July 23, 2019
17:50 | Kumaraswamy is delivering his concluding remarks before the trust vote
He says, "It's a historic day in Vidhan Soudha today. It is the first time that the opposition hasn't taken part in trust motion debate. I had no intention to drag the trust vote; I want to apologise to people of Karnataka. If you're hurt Speaker sir, I want to apologise."
17:35 | BJP indulged in "wholesale" trade of MLAs, says Siddaramaiah 
Siddaramaiah accused the BJP of trying to topple the Kumaraswamy government and come to power through backdoor using bribery and "whosesale" trade of MLAs.
Speaking during the debate on the confidence votion moved by Kumaraswamy in the assembly, Siddaramaiah alleged that "Rs 20,25 and 30 crore" were offered to lure the MLAs and asked "Where did this money come from?"
"It is a black mark on political history in the State," Siddaramaiah, who is the chairman of the Congress-JDS coalition coordination committee and leader of Congress Legislature Party, said.
Siddaramaiah said, "everyone... 99 per cent of the people know that BJP is behind this (toppling game). Say it openly."  
"If you feel that you will come to power by murdering democracy, it will backfire on you. If at all Yeddyurappa forms the government, you will be there for six months or one year," he added.
Siddaramaiah: This wholesale trade is a problem. If there is retail trade of one or two members then it's not a problem. The MLAs(rebel) who have gone have indulged in wholesale trade. https://t.co/sg8rSRxArU

— ANI (@ANI) July 23, 2019
17:30 | End of the road for Congress-JDS government in Karnataka? IT CERTAINLY SEEMS SO
17:10 | The Speaker has set a new deadline for the trust vote to begin -- 6 pm today. Will Congress-JDS survive?
14:25 | "It's not BJP leaders who have backstabbed me but the rebels in Mumbai," says Congress troubleshooter DK Shivakumar
DK Shivakumar, Congress, in Vidhana Soudha: BJP leaders are being misguided. I went to Mumbai to speak to them (rebel MLAs). I spoke to one of the MLAs there and he asked me to come and take him away. #Karnataka https://t.co/ht5hXThXah

— ANI (@ANI) July 23, 2019
13:45 | Lawyers of the rebel MLAs have left the Speaker's chamber in Vidhan Soudha. They, along with a delegation from the Congress party, met Speaker KR Ramesh Kumar
13:20 | SC to hear Karnataka floor test plea on Wednesday
The Supreme Court on Tuesday adjourned the hearing on a plea seeking direction to conduct the trust vote in the Karnataka Assembly immediately.
12:50 | Mukul Rohatgi, who represents rebel lawyers, hopes Speaker realises the position he is at
Mukul Rohatgi, representing #Karnataka rebel MLAs in SC: SC has passed an order saying that Court is optimistic that Speaker will hold floor test today; has kept the matter for tomorrow. I hope the Speaker realizes what his position is, what Constitution obliges him to do. pic.twitter.com/Yz9eeE9iDw

— ANI (@ANI) July 23, 2019
11:00 | Karnataka assembly begins for crucial floor test
10:35 | Congress MLAs reach Vidhan Soudha
10:15 | "It's the final day for this government. We believed yesterday was the last but because of the 'milapi kushti' in between the ruling party and others, they postponed it for one day. We'll see what happens. And if division of votes take place, this government will definitely be defeated," says BJP leader J Shettar
10:00 | BS Yeddyurappa and other BJP MLAs arrive at Vidhana Soudha
09:55 | "They don't have the numbers. They're a minority government. MLAs are in Mumbai. They don't want to come. Let's see what happens by this evening. Confident that this govt will definitely go. This isn't a people's government. People are upset, MLAs are upset," says BJP leader Shobha Karandlaje
09:45 | Speaker KR Ramesh Kumar arrives at Vidhana Soudha
09:26 | House to meet shortly. The debate on the confidence motion will most likely be concluded by 4 pm and the floor test will be held at 6 pm
CASE FILE
The Chief Minister moved the confidence motion on July 18 to prove majority after the 14-month fledgling JD-S-Congress coalition government was reduced to minority following the resignation of 15 rebel legislators of the ruling combine and withdrawal of support by two Independents in the 225-member Assembly, including one nominated without voting right.
Earlier, a tense Kumaraswamy beseeched the Speaker for two more days to face the floor test after his reply to the motion.
"In view of the fast-changing circumstances since July 19 and a few petitions coming up in the Supreme Court on Tuesday for hearing and ruling on issues concerning our parties and the state, we request you to defer the floor test to Wednesday," Kumaraswamy told the Speaker.
Admitting that Congress Legislature Party (CLP) leader Siddaramaiah and he had assured the House on Friday of completing the debate for the floor test on Monday, the Chief Minister alleged that a fake resignation letter with his forged signature and address to state Governor Vajubhai Vala was being circulated in the social media like WhatsApp, Twitter and Facebook since late evening when he was in the Assembly.
"I don't know who is so desperate for my resignation that a fake letter was prepared with my forged signature and shared in the social media. It also made it to the print and electronic media, which brought it to my office's notice. This mischief needs to be investigated to find who all are behind this," Kumaraswamy told the Speaker in Kannada.
Even as the ruling members were on their feet for adjourning the session, Kumaraswamy and Deputy Chief Minister G Parameshwara left the House quietly as they left the debate on the motion to the Speaker.
Congress state president Dinesh Gundu Rao said the top court has listed for hearing on Tuesday the petitions filed by his party, JD-S, chief minister and two Independents on issues pertaining to the coalition government, the trust vote, the July 17 interim order of the three-judge bench, saying the 15 rebel legislators who resigned cannot be compelled to attend the session for the floor test and the governor's three messages to the chief minister to prove his majority on July 17 and July 18.
With the 15 rebels, including 12 of the Congress and 3 of the JD-S deciding not to attend the session and two Congress legislators (B. Nagendra and Srimant Patil) admitted in Bengaluru and Mumbai private hospitals, the strength of the allies in the House was 99 (65 out of 79 of the Congress plus 34 out of 37 of the JD-S), including the Speaker (from Congress) in the 225-member assembly.
With the two Independents supporting the BJP, which has 105 legislators, 107 votes will be against the motion in the division of votes vis-a-vis 100 of the ruling combine, including N Mahesh of the Bahujan Samaj Party (BSP).
"The voting takes place on the basis of the members present in the House. But with only 100 members on his side, Kumaraswamy will inevitably face defeat when the motion will be put to vote, as the new halfway mark will be 105 out of 208 (225-17)," BJP spokesman G Madhusudana told news agency IANS.