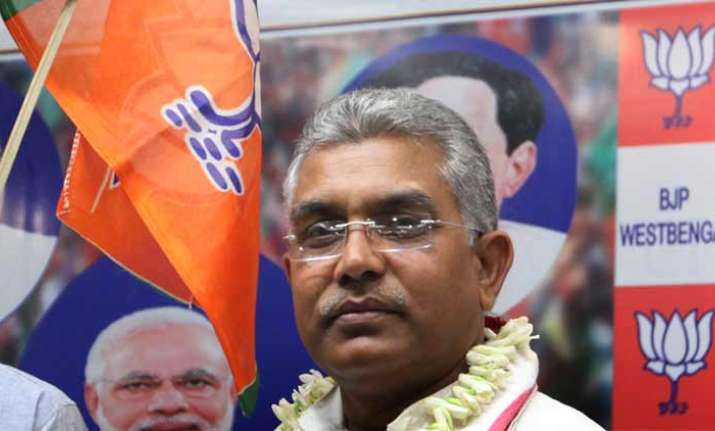 West Bengal BJP chief Dilip Ghosh created a fresh controversy on Wednesday when he termed the Ram Navmi celebrations in the state as a fight between "Ramzada" (one born of Lord Ram) and "Haramzada" (illegitimate- born).
"Ram belongs to the entire world. We believe Ram is there in all the creations. One who is afraid of Ram, Ram does not belong to him," Dilip Ghosh said while leading a Ram Navami rally in his constituency Kharagpur of West Midnapore district.
"Here (in Bengal) there is a fight going on between Ramzada and Haramzada. It is a test to decide who is on the side of Ram, and who is not," he added.
The West Bengal BJP chief's comments came on a day when the state Chief Minister Mamata Banerjee accused the BJP of "appropriating festivals" and trying to divide people of the state.
RSS-led Sangh Parivar backed by its political wing Bharatiya Janata Party organised Ram Navmi celebrations in the state on a grand scale this year.
Dilip Ghosh's comments are a virtual echo of Union Minister of State Sadhvi Niranjan Jyoti's remarks at a rally ahead of the Delhi assembly polls in late 2014 where she told voters to choose between "Ramzadon" and "Haramzadon".
The ruling Trinamool Congress, which organised Hanuman worship and brought out Ram Navmi processions of its own to counter the BJP during the day, reacted sharply.
"This gentleman has lost his mind in the heat of Kharagpur. He doesn't know what he says. He is polluting our culture. Even people chatting in the drawing rooms use better language. He lacks mental balance," said Trinamool Secretary General and state minister Partha Chatterjee.
Communist Party of India-Marxist legislature party leader Sujan Chakraborty dismissed the BJP leader's comments as "nonsensical" and "uncultured".
"This is also reflective of his unsocial nature," he said.
(With IANS inputs)