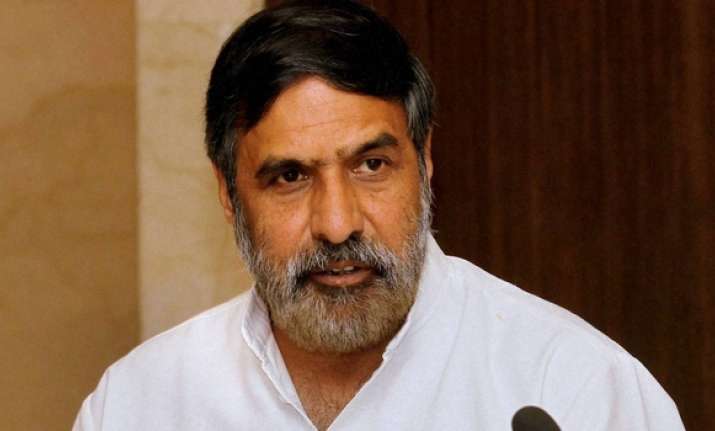 The Congress has accused the Narendra Modi government of "branding" people by applying ink on those who are visiting banks for exchanging demonetised currency notes of Rs 500 and Rs 1,000 denominations. 
"The decision to put indelible ink on fingers of account holders is a senseless, Fascist and Nazist act of branding people. It is shameful that they have done so with foreign tourists. Instead of sermonising, Prime Minister Narendra Modi and his Finance minister should hang their heads in shame and apologise to the people," Party spokesperson Anand Sharma said on Thursday.
He also accused the government of "insulting and harassing" crores of Indians by subjecting them to stand in long queues to withdraw money.
The Congress spokesperson charged Prime Minister Narendra Modi with "disrespecting" Parliament by not hearing out concerns raised by members on demonetisation.
"The PM's stand in not being present in Parliament smacks of arrogance and disrespect for the institution of Parliament.
Narendra Modi does not have the courage to face the truth and lacks the grace to apologise to the people for the suffering inflicted on crores of Indians," he said.
The Congress leader said India's image globally has been besmirched with foreign missions issuing advisories to their citizens against travelling to India.
Sharma also accused the Prime Minister of indulging in "selective leaks" from September onwards and said "it is government's failure to maintain secrecy and selectively leak the proposed step to individuals and vested interests and groups identified with BJP."
"It is a big scam which demands an investigation. The opposition demand of JPC is fully justified and we are determined to press for it," he said.
Sharma took strong objection to Union Minister Venkaiah Naidu's remarks targeting Leader of Opposition in the Rajya Sabha Ghulam Nabi Azad. Azad had equated the Uri terror attack and deaths in queues at banks in terms of deaths. Sharma said Naidu's statement "mischievously distorts the comments made by the Leader of Opposition".
He said, "In their desperation, Naidu and the government are seeking to communalise the comments also by raising the bogie of nationalism, which definitely is not their exclusive domain."
The former Union minister said, "Instead of urgently addressing the situation caused by demonetisation move, the government is engaging in false propaganda and escape accountability."
(With PTI inputs)