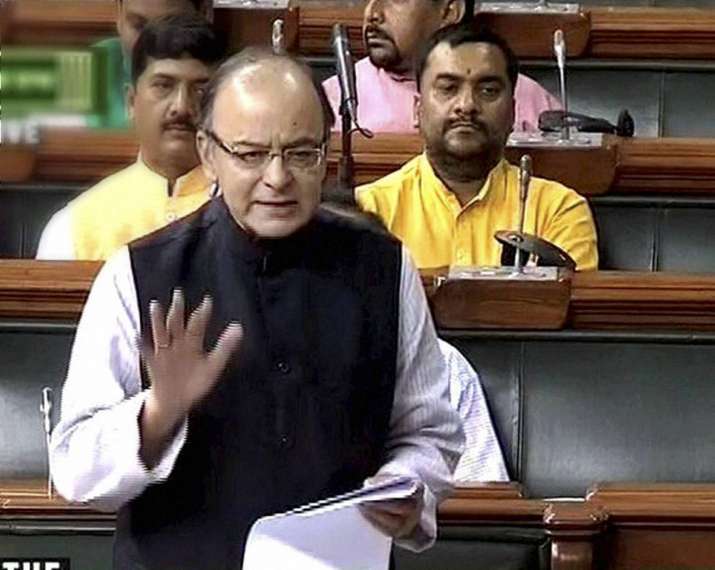 Responding to Congress vice-president Rahul Gandhi's 'Arhar Modi' jibe directed at the Prime Minister, Finance Minister Arun Jaitley hit back and slammed UPA's record on inflation.
He contended that the NDA government had in 2014 inherited from UPA a double-digit inflation which has been brought substantially down and it will further reduce with good monsoon.
The NDA, he said, inherited policy paralysis from UPA and commentators often said 'I' in the BRICS nations will fallout. From that point, the BJP-led government has turned around the economy, he said.
Jaitley said that the Centre had taken several steps to control prices of essential commodities and the current rise in the prices were due to seasonal factors, especially rains.
"Inflation is under control, I expect it to reduce further with good monsoon," he said.
Also Read: 'Arhar' Modi: After 'suit boot' and 'fair & lovely', Rahul Gandhi's latest jibe at the Prime Minister
Arun Jaitley today said any form of "bluster" is not a substitute for statistics as he reeled out numbers to assert that the government has brought down prices substantially.
"Any form of bluster is not substitute of statistics," he said intervening in a debate in Lok Sabha on price rise and asked Gandhi to compare the inflation rate during the UPA government and that prevailing now.
Jaitley defended mopping up gains from slump in international oil prices by raising excise duty on petrol and diesel saying additional resources were needed to spur public investment in a weak global economy especially when private spending was lackluster and banks were unable to finance infra projects.
Stating that India has potential to achieve higher growth rates, he said additional resources raised has helped the country become fastest growing economy in the world and back of the envelop calculations being done by Congress can be misleading.
Rebutting Gandhi's 'Arhar Modi, Arhar Modi' jibe over rise in prices of pulses, the Finance Minister said, "everybody in this house seems to be claiming to be going to the market everyday."
The Congress leader in his speech cited prices collected from market to counter Modi's pre-polls slogan of bringing down inflation if voted to power.
"I want to remind PM of a promise, a promise he made to the people of India, a promise he doesn't speak about, a promise Prime Minister Narendra Modi has forgotten about," Rahul said while in reference to Modi's promises during 2014 poll campaign.
"He had also promised that when the BJP government comes to power, it will bring down the prices of essential commodities," he said while giving a comparative statistics of prices during UPA and NDA rule.
He asked the government to give a date when the prices would come down. "Modi ji, you may make as many hollow promises as you want, but give a date to this House when prices of 'daal' will come down," Rahul said.
Jaitley countered Rahul by saying, "This is a topic of statistics and not sloganeering... When UPA left government, the economy was in a critical state and it is but natural for any contesting candidate to say that after getting elected he would try to bring down inflation. No one should have any objection to that."
Stating that last two years of UPA government had double digit price rise, Jaitley said consumer price inflation (CPI) was 10.2 per cent in 2012-13 and 9.5 per cent in 2013-14.
This has been brought down to 5.77 per cent in June. Insisting that inflation has been kept under control since NDA assumed office, the Finance Minister said he expects the rate of price increase will further reduce with a "good" monsoon.
"You are talking about a government which left behind double digit inflation and today we have a situation where steps have been taken in each sector to contain inflation. Any form of bluster is not a substitute for statistics. These are backed by hard facts," he said.
Attributing spurt in prices of pulses to mismatch between demand and supply, the Minister asked Gandhi not to attach corruption as the motive behind the difference between the rate a farmer gets and the retail selling price.
"The new economic equation you gave that a rise in minimum support price should result in lower retail prices, otherwise it is corruption. This I have heard for the first time. Price are determined on account of demand and supply," he said.
Jaitley said the monthly statistics shows the pulses inflation is coming down and asked Rahul Gandhi not to look for corruption angle in the rise of prices of pulses, which he said occurred due to rise in costs globally besides two consecutive years of drought.
"Even today the corruption scandals that emerge are those of UPAs and not NDA... We have contained inflation despite having two years of drought. Good monsoon helps economy and with good monsoon this year, I expect that the prices of will come down," Jaitley said.
The NDA government has brought down inflation and for 18 straight months, the country has witnessed negative WPI inflation, he said.
Replying to members' concerns on how the government used the gains on account of drop in crude oil prices, Jaitley said the gains have been utilised in three ways -- to help oil PSUs to reduce their losses on account of subsidy, to invest in infrastructure and benefit common people by enabling them to shell out less money in buying petroleum products.
He said 42 per cent of the gains due to fall in global crude oil prices is shared with the states with the Centre retaining 58 per cent of the share.
"It is because of these policies to shore up public investment that for two years in a row that India has emerged as the fastest growing economy. It is mainly because of public investment and foreign investment that we are growing at a respectable rate, but we are not satisfied as we have greater potential," he said.
"When the going is good, economies grow, but it is only when the going is challenging then the real challenge arises," he said.
Countering Gandhi's remark that the UPA government had waived farm loans, Jaitley said the NDA government's policies are not one-time and are instead more sustainable towards building rural infrastructure, irrigation facility and sanitation for upliftment of poor.
"All these steps taken by the government will propel India to better economy," he said.
He acknowledged that high prices of pulses is a concern and said steps are being taken to address this by narrowing the mismatch between demand and supply.
Noting that India has the highest production along with highest consumption of pulses, he said while the demand is for 23 million tonnes, the production was 17 million tonnes, leaving a gap of six million tonnes.
The output of pulses is expected to go up to 20 million tonnes this crop year, Jaitley said, adding steps are also being taken by the Food Ministry to create a buffer of 20 lakh tonnes of pulses to keep the prices under control.
He also criticised Gandhi for asking the Prime Minister to set a date by when the prices will come down, saying issues are settled through policies rather than giving dates.
The government is working on policies to encourage farmers to produce more and India is moving towards self sufficiency in pulses produce, he said.