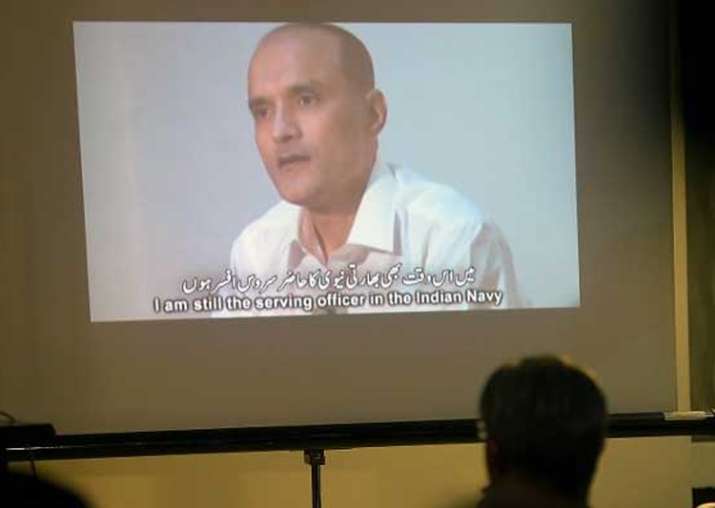 The International Court of Justice (ICJ) today stayed the execution of former Indian Navy officer Kulbhushan Jadhav, who had been sentenced to death by a Pakistan military court on charges of espionage and subversive activities. 
"Pakistan shall take all measures at its disposal to ensure that Mr Jadhav is not executed pending the final decision in these proceedings," ICJ President Ronny Abraham said while reading out the verdict. 
The ICJ also instructed Pakistan to inform it "of all the measures taken in implementation of the present order". 
While the verdict rattled Pakistan, India heaved a collective sigh of relief people from all walks of life hailing the order. 
Here is how India reacted to the order:
Sushma Swaraj, Minister of External Affairs
The ICJ order has come as a great relief to the familly of Kulbhushan Jadhav and people of India. We are grateful to Mr. Harish Salve for presenting India's case so effectively before ICJ. I assure the nation that under the leadership of Prime Minister Modi we will leave no stone unturned to save Kulbhushan Jadhav. I compliment my team of officers in the MEA for their tireless efforts and hard work.
Arun Jaitley, Union Minister of Finance and Defence 
This order, though interim, is a very serious indictment of the kind of mockery that exists in Pakistan in the name of judicial system. Unless there is an effective defence the proceeding doesn't inspire the confidence and fairness. Consular access is part of the right to defence. Secret proceedings conducted in darkness are conspiratorial in nature and a denial of consular access emphasises the denial. The ICJ ruling is based on the international notions of rule of law and civility. If any country says I don't accept the ruling, is the country going to put itself in a position that it is guilty of such a heinous crime violating all international norms.
Rajnath Singh, Home Minister
The ICJ's decision to stay the execution of Shri Kulbhushan Jadhav gives the people of India a deep sense of satisfaction and relief.  The EAM Sushma Swaraj has done a commendable job. The govt led by PM Narendra Modi will go to any extent to save Kulbhushan Jadhav.
Amit Shah, BJP President
India welcomes ICJ's decision to stay the execution of Kulbhushan Jadhav. This brings immense relief to his family and to the entire nation. This is a result of tireless efforts of our MEA Sushma Swaraj and her team, that handled the matter proactively. India under the decisive leadership of PM Narendra Modi stands firmly for the safety of each and every citizen of our country.
M Venkaiah Naidu, I&B Minister 
Justice prevails. International Court of Justice staying execution of Kukbhushan Jadhav has exposed Pakistan. I'm sure final order too will go in our favor. Compliment efforts of  Sushma Swaraj ji for taking right initiatives in Kulbhushan Jadhav case that has led to this major victory & justice. 
Ghulam Nabi Azad, Leader of Opposition in Rajya Sabha
Case against Kulbhushan Jadhav by Pakistan was a sham and was in gross violation of international law as his execution was ordered by a kangaroo court without consular access. It is appreciated that the World Court saw reason in Indian appeal and could see through the false Pakistan propaganda by rightly turning down their request to play the purported confessional video during hearing earlier.
Anand Sharma, Congress MP
It is a matter of great relief for all the people of India. We were worried. The order of the International Court of Justice must be respected by the State of Pakistan... We hope that the Government of India will continue to mount that pressure because it is the first stage. We have to ensure that Jadhav's life is saved and then only when he returns home, we will celebrate. Right now, it is a big relief, and we hope that Pakistan respects that order. 
Manish Tewari, Congress spokesperson 
The government of India must use the ICJ decision as a trigger to bring Kulbhushan Jadhav back. The ICJ has given a favourable decision which is absolutely humanitarian and content. Now, the government of India must use this decision to see that Jadhav comes back home safely.
Arvind Kejriwal, Delhi CM 
Strongly welcome the ICJ stay on Kulbushan Jadhav's execution. Entire country is united in ensuring his safe release. 
D Raja, CPI
Communist Party of India welcomes the ICJ verdict. It vindicates India's stand on this issue and finally truth prevails upon. Finally the truth will triumph and Jadhav will be brought back to the country. Now, Pakistan will have to respect the order and abide 
by it.
Sitaram Yechury, CPI(M) 
Pakistan should wait till the time the international court disposes of the case. It is just a continuation of its earlier understanding.