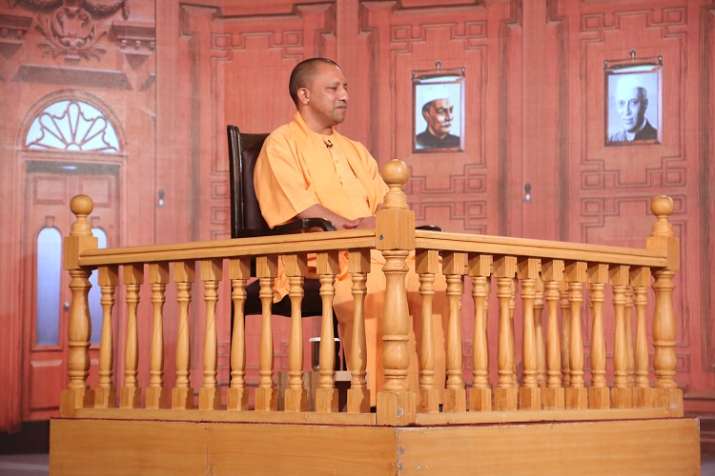 On the verge of completing one year of the rule on March 17, Uttar Pradesh chief minister Yogi Adityanath on Tuesday emphatically said that BJP would score "a 100 percent win, 80 out of 80 Lok Sabha seats" in the Lok Sabha elections next year.
Replying to questions from Rajat Sharma at the India TV Samvaad conclave here on Tuesday evening, Yogi Adityanath said: "Our party will score a one hundred percent win in 2019 elections, all 80 out of 80 Lok Sabha seats".
Asked what would happen to Congress President Rahul Gandhi's and Sonia Gandhi's seats, Yogi Adityanath shot back: "They would have fled by then (uske pahle yeh palaayan kar jayengey)."
The chief minister said, "the people of Uttar Pradesh are politically mature and very much aware. They know the characters of politicians. I wonder, why only SP and BSP are joining hands, why not the Congress."
On the controversy relating to Naresh Agrawal's remarks against Jaya Bachchan and Lord Ram in the past, Yogi Adityanath said: "BJP is a party based on values and principles. Those who have joined us have improved a lot (Sudhaar bahut saare logon ka hua hai). You read the Ramayana epic, big personalities had a change of heart."
Also read | India TV Samvaad on Yogi Govt's one year: Will visit mosque if I get an invitation, says CM Adityanath
On Samajwadi Party chief Akhilesh Yadav claiming himself to be a "backward Hindu", earlier in the day at the conclave, Yogi Adityanath replied: "I consider this as our ideological victory. Those who used to project the word Hindu in a narrow sense are now seeing the light of the day. Hindu,as a connotation, is not communal. It delineates our cultural borders. There is no forward or backward Hindu in Hinduism."
On nearly 11 lakh students staying away from the board exams in UP this year, the chief minister said that "nearly 75 per cent of these students were from outside. They used to enrol here, and others used to sit in the exams for these Munnabhais". 
Asked why he has not visited a mosque, though Prime Minister Narendra Modi has visited several mosques in India and abroad, Yogi Adityanath replied: "Nobody has invited me (to visit mosque) till now. I will definitely go if invited."
On the electoral tie-up between SP and BSP for the Gorakhpur and Phulpur Lok Sabha byelections, the chief minister said: "This is their biggest defeat. On our part, earlier we had to deal with both separately. Now we will deal with them jointly."
Asked why 40 miscreants have been killed so far in the spate of encounters during the last one year, Adityanath replied: 'It is more than 40. We want to establish rule of law in the state. Earlier there used to be miscreants who had access even to the chief minister's residence, but now they are selling vegetables on handcarts. Our message is quite clear. Behave properly and you need not fear."
The chief minister announced that the state government have already started the process for recruitment to nearly 5 lakh posts in different departments. Of them, nearly one lakh recruitments would be made in basic education.
He said, till now, six lakh persons have been enrolled for Skill India, out of which nearly 2.5 lakh have passed out. "We are working on 'one district, one product' to give a boost to small and medium business."
Watch video: Rajat Sharma grills UP CM Adityanath