Follow us on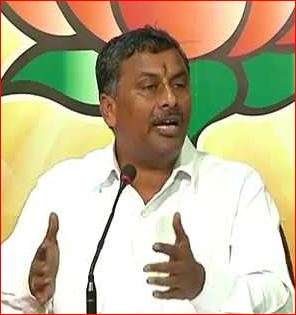 Warning the Telangana government against increasing reservation quota to Muslims in jobs and education in proportion to their population, a BJP MLA today said that a Yogi will emerge in this state too if the TRS government goes ahead with its proposal to increase Muslim reservation from the current four per cent to 12 per cent.
Referring to the recent anointment of Yogi Adityanath, the hardline BJP leader, as UP Chief Minister, the BJP MLA N.V.S.S. Prabhakar said, "If Muslims are provided the quota, another Yogi will emerge in Telangana."
Prabhakar alleged that the Telangana Backward Classes Commission is doing injustice to the backward classes by working for the minorities. He was referring to the survey being done by the BC Commission on socio-economic conditions of Muslims.
The BJP has already threatened to launch a statewide agitation if the TRS government goes ahead with its plans to provide quota to Muslims in proportion to their population.
BJP's state president K. Laxman argued that quota on the basis of religion is against the Constitution. He recalled that the courts struck down reservation for Muslims in the past.
Chief Minister K. Chandrasekhar Rao has announced that bills to increase the quota for Muslims and Scheduled Castes will be introduced during the ongoing Budget session of the state assembly.
As the move will take the overall quota in the state beyond the permissible limit of 50 per cent, the state government plans to approach the Centre with a request to include the two legislations in the 9th Schedule of the Constitution as was done in the case of Tamil Nadu.
(With IANS inputs)