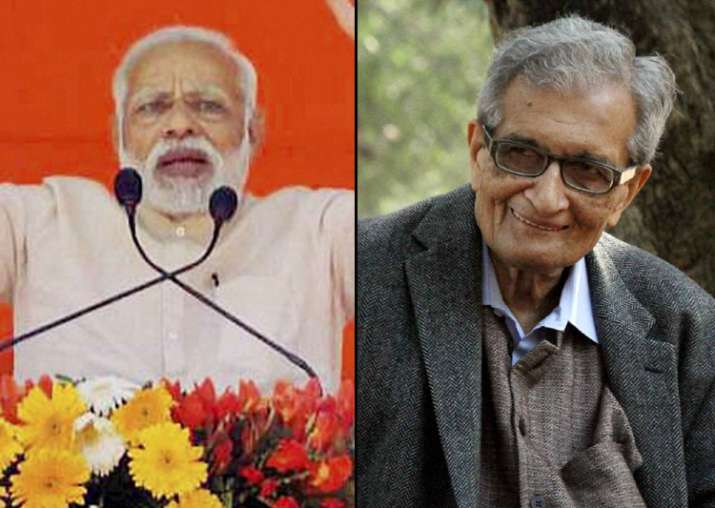 Emboldened by the latest GDP data estimates that go contrary to claims of a huge hit on the country's growth due to demonetisation, Prime Minister Narendra Modi on Wednesday took potshots at economists saying that "hard work is more powerful than Harvard."
"On the one hand are those (critics of note ban) who talk of what people at Harvard say and on the other hand is a poor man's son who through his hard work is trying to improve the economy," Modi said at an election rally in Maharajganj. 
"In fact, hard work is much more powerful than Harvard," he said without elaborating. 
His remarks came against the backdrop of Professor of Economics and Philosophy at Harvard University and Nobel Laureate Amartya Sen terming demonetisation as a "despotic action that has struck at the root of economy based on trust". He had called the move to scrap 86 per cent of Indian currency an "unguided missile fired unilaterally without regard to democratic norms".
The government had yesterday pegged GDP growth at a higher-than-expected 7.1 per cent for 2016-17 despite the cash blues, which was higher than China's 6.8 per cent for the Oct-Dec period of 2016, making India retain the tag of the world's fastest growing economy. 
The government on November 8 last year banned Rs 500 and Rs 1000 notes, claiming that the move would eliminate black money, counterfeit notes and funding to terror groups. Opposition parties and economists argued against the logic and said it would affect the growth of the Indian economy. 
Finance Minister Arun Jaitley today said a 7 per cent expansion in third quarter belies exaggerated claims of note ban impact on rural economy. 
The Congress has, however, dubbed the GDP numbers as "surprising" and "highly suspect" that could dent India's global credibility and accused the Prime Minister and the Finance Minister of "misleading" the public. 
Congress spokesperson Anand Sharma said the GDP numbers released by the Central Statistics Office (CSO) are "misleading" as these do not factor in the adverse impact of demonetisation, including losses in jobs and production. 
"The GDP numbers that have been released are surprising and highly suspect. The GDP growth as projected is questionable and will also undermine the crediblity of Indian data globally," he told PTI.