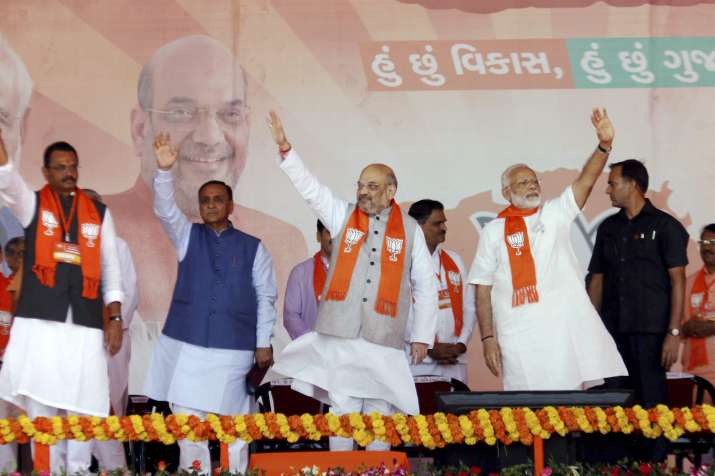 Amid the row over the "delay" in announcement of the Gujarat Assembly polls, Prime Minister Narendra Modi will visit his home state today for the third time this month, where he will inaugurate and lay foundation stones for a number of projects in Bhavnagar and Vadodara districts. 
Among the projects that the PM will inaugurate is the first phase of the Rs 615-crore 'roll-on, roll-off (ro-ro)' ferry service between Ghogha in Bhavnagar district and Dahej in Bharuch in the Gulf of Cambay. 
The prime minister had called the ferry service, which will reduce the distance between the two towns from 310 kilometres by road to 30 kilometres, his "dream project" while addressing a gathering at Gandhinagar on Monday. 
He will address a gathering in Ghogha and undertake a journey to Dahej from Ghogha on the ferry. From Dahej, he will leave for Vadodara, where he is scheduled to inaugurate and lay the foundation stones for projects worth over Rs 1,140 crore. 
Modi's visit comes amid the row over delay in announcement of the dates for the assembly polls in Gujarat. The Election Commission had on October 12 announced that polling for the assembly elections in Himachal Pradesh will take place on November 9, but held off announcing the Gujarat schedule, only saying the polling in the western state would be held before December 18. 
Immediately therafter, the Congress had alleged that the BJP government put "pressure" on the poll panel to "delay" the announcement of Gujarat elections to enable the prime minister to act as a "false santa claus" and offer sops, use "jumlas" (rhetoric). 
The model code of conduct would have come into immediate effect in Gujarat had the poll schedule been announced along with Himachal Pradesh, the party said. 
Since the EC's press conference on October 12, the Gujarat government and the Centre have doled out several sops for the state.  
Modi will also visit Vadodara where he will inaugurate eight different projects worth Rs 1,140 crore. 
Vadodara Municipal Commissioner Vinod Rao said Modi will dedicate to people a Rs 100-crore city command and control centre in Badamadi Garden, Rs 125-crore Janmahal city transport hub and multi-level parking (under PPP), a Rs 160 crore multi-modal city transport hub, Rs 267 crore waste-to-energy processing plant. 
The other projects are a Rs 166-crore water treatment plant, two flyovers collectively worth Rs 265 crore, a Rs 55-crore deer safari park, and a Rs 6-crore veterinary hospital. He will also address people at Navlakhi compound in Vadodara. 
Modi had last visited Vadodara, a constituency from where he contested the 2014 Lok Sabha election and won by a record margin, on October 22 last year to inaugurate a new airport terminal building and distribute assistance devices to the divyang (specially-abled) people. He had also won from Varanasi seat in Uttar Pradesh which he retained. 
The prime minister had visited Gujarat on Monday, when he addressed the BJP workers at a rally in Gandhinagar. 
Prior to that, Modi had visited his home town Vadnagar on October 8 and also inaugurated and laid foundation stones of various projects in Rajkot, Vadnagar, Gandhinagar, and Bharuch. 
His visits assume significance as Assembly elections are due in Gujarat in December. 
Last month, he hosted Japanese Prime Minister Shinzo Abe here and launched the bullet train project. Modi had also dedicated to the nation the Sardar Sarovar Dam on river Narmada at an event coinciding with his 67th birthday.