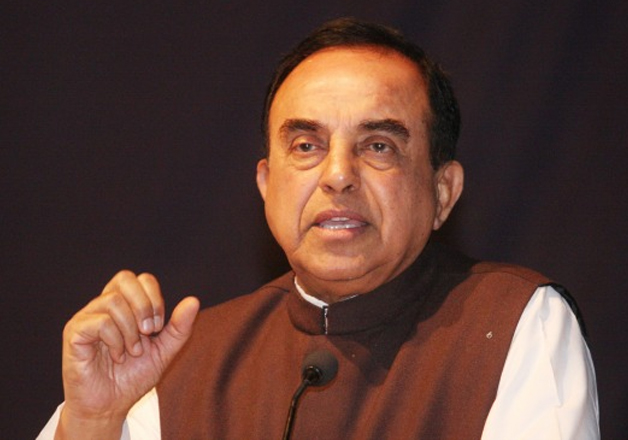 Firebrand BJP leader Subramanian Swamy today accused Tamil Nadu's acting Governor Vidyasagar Rao of running away from the ongoing political crisis in the state.
"The whole centre point in the confusion is the Governor as he ran away to Delhi and then Mumbai," the Rajya Sabha MP told reporters.
"He (Vidyasagar Rao) ran away to Delhi, then went to Mumbai. Yes he is also Governor of Maharashtra but crisis was in Tamil Nadu," the leader said. 
"The Governor's behaviour is deplorable. Congress is not attacking him, maybe he is influenced by them," he added.
Training his guns on caretaker CM O Pannerselvam, he said, "The sitting CM resigned and supported the resolution to make her (Sasikala) the CM. Sasikala signed it immediately. There is no scope other than this for him (Governor) and instead he runs away."
Swamy also called caretaker Panneerselvam's plan to withdraw his resignation as Chief Minister 'unreal'.
The leader further suggested that the Governor must visit Chennai immediately in view of the situation and take appropriate action in the matter.
"Why did he do this, may be somebody has exerted pressure on him. Now he must limit the damage and immediately call Sasikala for the swearing-in," he said.
Meanwhile, reports have emerged that Maharashtra Governor Rao, who holds additional charge of Tamil Nadu, will arrive in Chennai this afternoon. 
The two warring factions of the ruling AIADMK, led by Panneerselvam and CM-designate Sasikala, will meet him separately in the evening. 
Swamy also slammed the Congress for protesting against the Prime Minister's comments against former PM Manmohan Singh in the Rajya Sabha. 
"Manmohan Singh himself said that this is a joke. Now what is offensive in that comment? He did not say anything vulgar, it is a nice joke," Swamy said.
"He (Modi) said that the former PM has been in so many economic offices and there is not  a single spot on him. It is like some shield on him like a raincoat. I think the sense of humour has gone from our Parliament since Sonia Gandhi became the leader of Congress. Let them boycott but other parties are not doing this," he added.
The Congress party and the BJP are at loggerheads over PM Narendra Modi's remarks made in the Rajya Sabha on Wednesday. Hitting back at Manmohan Singh, who had called demonetisation an 'organised loot' and 'legalised plunder', Modi had said, "There is a lot for us politicians to learn... so much happened he did not get even a taint. Only Doctor Sahab (Manmohan Singh) knows the art of bathing wearing a rain coat."