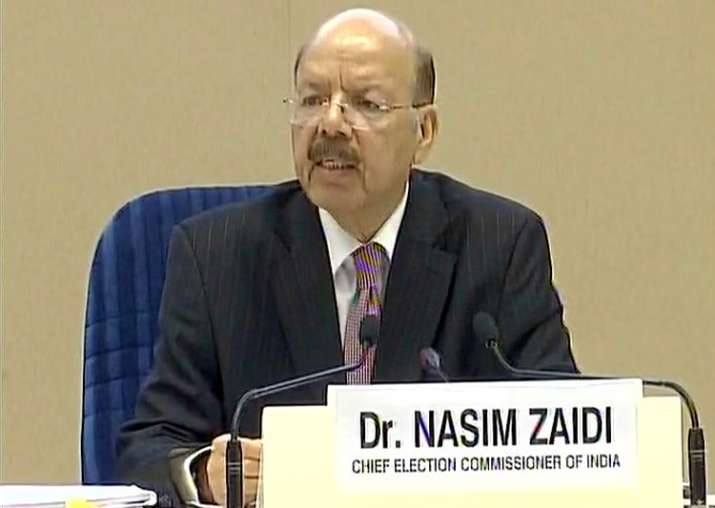 The Election Commission of India (ECI) today once again rejected allegations that Electronic Voting Machines (EVMs) used in recent assembly polls were hacked to favour a particular political party. 
Chief Election Commissioner (CEC) Nasim Zaidi said that political parties can test reliability of machines from June 3.
He said that 'people who questioned reliability of EVMs have not yet submitted any proof or credible material to support their claim'.
"Complaints came after elections in five states, but we did not receive any credible material information on EVM tampering from complainants," he told reporters.
"Our machines are totally different than the ones used in countries like Ireland. Our machines are tamper proof," the CEC added. 
He also rubbished reports that microchips used in EVMs can be altered easily. 
" No Trojan Horse can be introduced in EVMs to alter results as chips are one-time programmable. Each micro-chip has a unique identification number and a digital signature of the manufacturer. Therefore, any attempt to change a microchip is detectable," he said.
"EC machines are standalone and not connected to internet, making manipulation impossible," he added. 
Zaidi also ruled out any manipulation in the EVMs during its manufacturing stage. 
"There is no manipulation possible either during manufacturing stage nor can its security software be tampered with," he said.
"There cannot be manipulation in a planned manner in the manufacturing stage in advance as the numbers of the candidates are not known to the manufacturers," Zaidi added.
"Even the EC does not have these details in advance. It can't be known about the candidates, their names or their numbers in advance," he said. During counting of votes, he said no manipulation was possible. 
Zaidi then said that the EC has already announced that all future elections will be mandatorily held with VVPAT (Voter Verifiable Paper Audit Trail) and orders have been issued for manufacturing these machines. 
"The manufacturer will start manufacturing the EVMs with the VVPAT in August this year and it will deliver the new machines to the commission in September 2018," Zaidi said, adding that this would restore the faith of voters in transparent elections. 
He said all the safety measures along with other factors should put an end to all doubts about the possibility of manipulating or tampering with the EVMs.
"16.5 lakh VVPATs are already under production," Zaidi said, adding that the poll body will soon decide on percentage of VVPAT slips to be counted in all future polls.
Demonstrating the working of EVMs and (VVPATs) here, BP Mishra, a technical officer of Electronics Corporation of India Limited (ECIL), said that 'EVM tampering is a wrong allegation'.
"EVM tampering is not possible and the allegations of its malfunctioning are wrong," Mishra said.