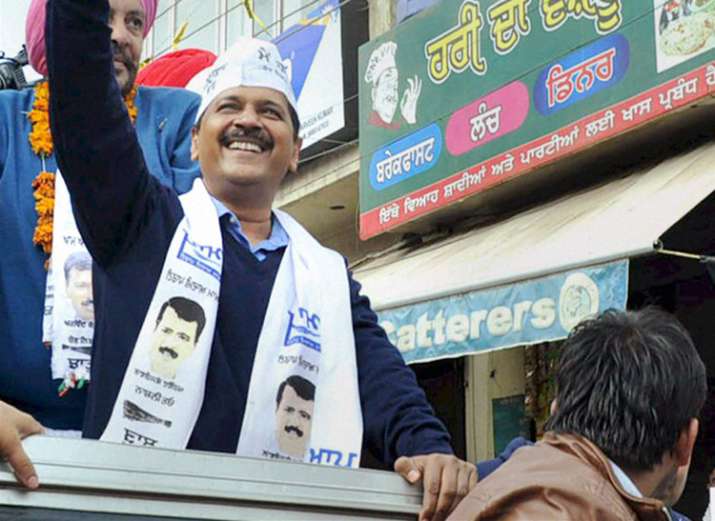 Terming as "scurrilous" the claims by Delhi Chief Minister Arvind Kejriwal that the Election Commission is encouraging bribery by refraining him from making remarks about bribes, the poll body today ordered authorities in Goa to register an FIR against the Aam Aadmi Party (AAP) leader. 
The poll body said FIR/complaint be lodged against the AAP leader under provisions of the Representation of the People Act dealing with bribing voters and relevant sections of the IPC. 
"Being Chief Minister of Delhi and a star campaigner of AAP in Goa, he is expected to conduct in an exemplary manner in election campaigns in a law abiding manner so as to be a role model for others to emulate but he has on several occasions again violated provisions of MCC by breaking his assurance to EC... 
"The Commission directs that necessary legal action be initiated by filing an FIR/complaint against Arvind Kejriwal for the statements...compliance report in this regard should be sent to the Commission latest by 3.00 PM on January 31," the poll panel said. 
The Commission recalled that it has censured Kejriwal for violating the provisions of MCC and expected him to be more circumspect in public utterances during election time. 
"Arvind Kejriwal has again written a letter... stating therein that he is not abetting bribery by appealing to voters to accept money from any party but to vote in favour of Jharu (AAP)... he stated that the Commission is encouraging bribery by refraining him from uttering such statements. 
"These submissions being baseless and scurrilous are totally unjustified in the light of the provisions of law on bribery and are not acceptable to the Commission," the Commission said.
At a rally in Goa, Kejriwal had asked voters in Goa to take money from political parties, but vote only for AAP, for which he was censured by the commission. 
After that, Kejriwal wrote a letter to Chief Election Commissioner Nasim Zaidi saying his comments were misinterpreted by the poll body alleging its order against him was encouraging corruption.  
"By stopping me to say what I am saying, the Election Commission is not stopping corruption, but encouraging it. I hope you (the EC) will re-examine this," he wrote. 
"Through this comment, I am trying to stop bribery. In fact, the Election Commission should make me its brand ambassador," Kejriwal said in the letter to CEC, which he posted on social media. 
"I hope you (the EC) will review the issue and will allow me repeat my comments," he said.