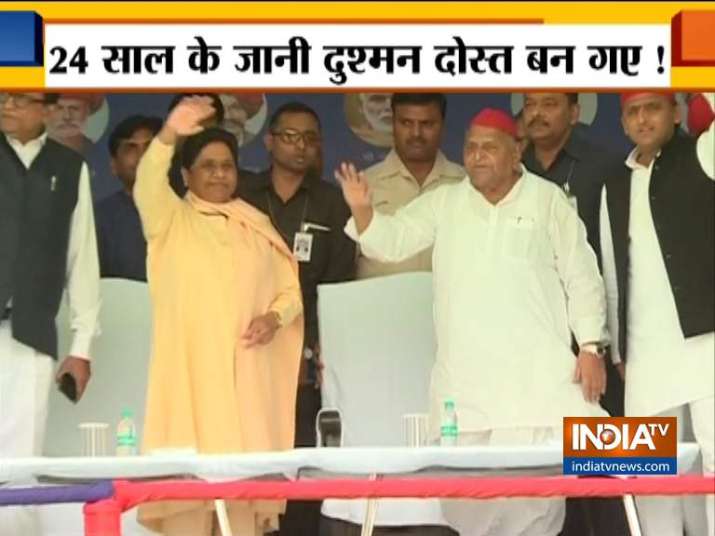 Once arch-rivals, Samajwadi Party (SP) founder Mulayam Singh Yadav and Bahujan Samaj Party (BSP) chief Mayawati shared the dais at a joint rally of the SP-BSP-RLD alliance in the Samajwadi Party citadel of Mainpuri on Friday.
Speaking on the occasion Mulayam Singh Yadav said he is happy that after a long time both parties have come together.
"I welcome Mayawati. I'm happy that after a long time we have come together. We will win more seat now. We will get a huge mandate," said senior Yadav. 
"Happy that Mayawati is doing rally for me," SP founder further said.
Mulayam Singh Yadav asked his supporters to always respect Mayawati.
On her part, Mayawati said she formed an alliance keeping in mind the political situation in the country.
"After seeing the enthusiasm of people, I'm sure that we are winning in Mainpuri. I appeal to people to vote for Mulayam Singh Yadav. I have formed an alliance keeping the political situation of the country in mind," BSP supremo said.
She also mentioned about the guest house incident. 
"I don't want to recall what happened in the guest house. We must concentrate on the present," she said.
Mayawati also attacked the Modi government.
"PM Modi is trying new-new tricks in order to win the polls. This time, Modi will not win," she strongly said. 
Akhilesh Yadav, who was also present at the dais, termed the development as "historic".
"Mayawati's appeal of votes for Mulayam Singh, a historic moment. This election will decide the future of the country," said junior Yadav.
WATCH VIDEO: