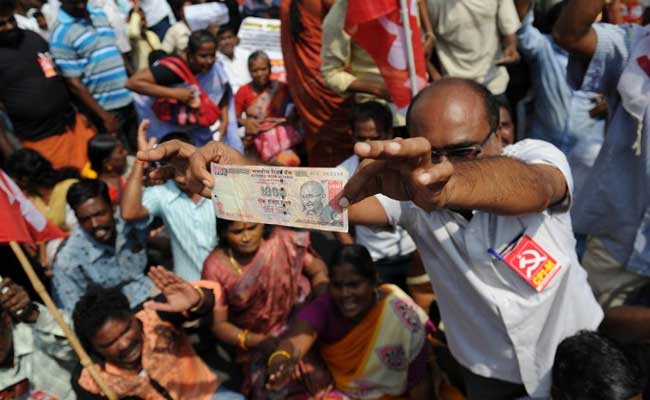 The call for a Bharat Bandh by a fractured opposotion to protest against the demonetisation move by the government has recieved a mixed reposnse with many states not feeling the impact of the call.
Many opposotion parties are observing 'Bharat bandh' - 'Jan Aakrosh Diwas'- against the Modi government's demonetisation of Rs 500 and Rs 1,000 notes today. However, the Congress has refrained from the call for a shutdown and instead chose to register its protest inside Parliament. 
Leader of Opposition MK Stalin was detained by Chennai police along with another member of the DMK after they began protesting against the centre's implementation of demonetisation.
"A financial tsunami is sweeping the country following demonetisation. Government promised to solve the issue in two days. Now it has been extended to 50 days and all these seem to be mere announcements," Stalin said while addressing party workers.
While life in states like Bihar and Left-ruled Tripura crippled on Monday due to a Left-called 12-hour shutdown to protest against demonetisation of high value currency, West Bengal, whose chief minister has been vociferously opposing the move, saw the call for bandh hardly getting any support from the people.
In Tripura, the dawn-to-dusk strike was called by the ruling Left Front led by the Communist Party of India-Marxist.
Police said more than 1,500 activists of political parties were arrested for picketing in front of government offices and railway stations.
Government and semi-government as well as private offices, banks, educational institutions, shops and business establishments were closed due to the strike.
All vehicles, except those of security forces, went off the roads.
Train services between Tripura and the rest of the country were affected as Left workers blocked several trains in different locations.
Similarly, parties aligned to the Left, staged token protests in Goa on Monday against the demonetisation. 
In Odisha, the state ordered a shutdown of educational institutions. 
The protests did not affect normal life at large as many opposition parties, including the Congress, Communist Party of India (CPI), the Communist Party of India-Marxist (CPI-M), and Communsit Party of India-Marxist-Leninist (CPI-ML), staged their protests at various banks in the state. 
Earlier today, Prime Minister Narendra Modi chaired a crucial meet with ministers in Parliament on Monday.
The bandh, called for by the ruling Left Democratic Front has crippled normal life in Kerala. Shops and business establishments are shut and school and colleges remained closed throughout the state. However, banks, tourists and their vehicles have been exempted.
Meanwhile, Congress workers in Patna took out a 'Jan Akrosh Divas' rally against demonetisation. CPI(ML) workers protested targeting the movement of trains in the state.Trains under the Gaya-Patna section was disrupted with the Ganga Damodar express and the Hatia Patna express being stranded at the Gaya station for nearly four hours.
Normal life seems unaffected in Kolkata, where the Left parties have called for a 12-hour state-wide bandh. Government buses and other private vehicles were seen plying on the road, reports PTI.
Samajwadi party workers also protested in Allahabad.Dravida Munnetra Kazhgam (DMK) workers also hold protests in Chennai. 
Opposition leader in the Rajya Sabha Ghulam Nabi Azad denied that any all-India bandh call had been given by the opposition parties against demonetisation.
"The maximum amount of black money is with the BJP. Before criticizing other parties, they should introspect first. As far as the Bharat Bandh is concerned, nobody has spoken about it. We have not taken any call on or for a Bharat Bandh," said Azad, ANI reports.
Congress, Trinamool Congress and the Aam Aadmi Party have said they do not support a bandh because of the huge cost involved.
Trinamool Congress chief Mamata Banerjee, who had started the call for a unified protest against the currency ban, will hold a march in Kolkata at 1 pm.
Vowing to foil left's call for strike, Banerjee said, "We oppose bandhs. We will take out a protest march (against demonetisation) on Monday."
All major traders associations in the national capital said no political party asked them to participate in the shut down against demonetisation.