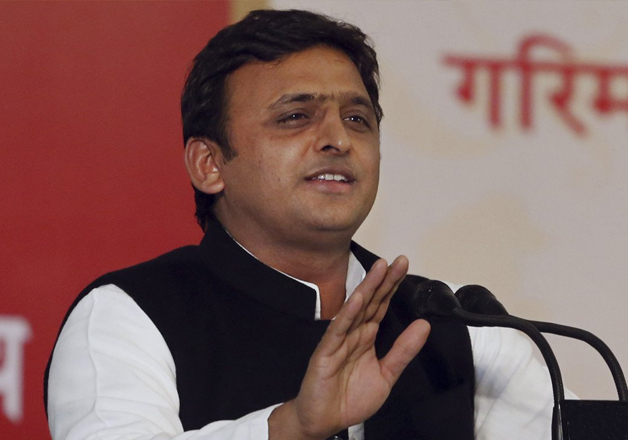 A day after the Election Commission ruled in his favour, Samajwadi Party chief and Uttar Pradesh Chief Minister Akhilesh Yadav today said that the poll body's verdict 'was not a matter of joy' for him.
Addressing party workers here, Yadav said that his relationship with his father and party patriarch Mulayam Singh Yadav remains 'intact' despite EC's ruling. 
"My relationship with my father can never be changed. We will take 'netaji' (Mulayam Singh Yadav) along, ties with him are unbreakable. Yesterday's EC's verdict was in no way a matter of joy for me. But it is important to fight some battles," he said.
"The moment EC's decision was put in public domain, few people erupted in joy but I immediately rushed to meet Netaji (Mulayam Singh)," he said.
Asking workers to turn their attention to the upcoming polls, he said, "His (candidates) list and ours is almost 90 per cent same." 
The Election Commission on Monday recognised the faction led by Akhilesh Yadav as the Samajwadi Party and allotted it the 'cycle' symbol. The EC decided in favour of the Akhilesh-led faction after hearing both parties through their lawyers for several hours on January 13.
Soon after the EC pronounced its verdict, Akhilesh went to meet father Mulayam Singh at his residence and sought his blessings. It was not known what exactly transpired in the father-son meeting. 
The EC noted that while the Akhilesh faction submitted individual affidavits of the members of the legislature and organisational wings in support of its claim of the majority support, the Mulayam faction failed to provide any such affidavit despite repeated calls. The Akhilesh faction claimed the support of -- and backed it with individual affidavits -- 205 (out of 228) MLAs, 56 (out of 68) MLCs, 15 (out of 24) MPs, 28 (out of 46) national executive members and 4,400 (out of 5,731) national convention delegates.
On the possibility of alliance with the Congress party, Akhilesh said, "The decision will be announced in a day or two. The declaration of alliance will be done here (Lucknow)." 
The alliance talks between the two sides gained momentum soon after the EC's verdict. According to information available with India TV, the pact has almost been finalized with SP offering 95 to 105 seats to Congress and the latter agreeing to it. Sources said that Akhilesh had recently met Congress vice-present Rahul Gandhi and poll strategist Prashant Kishor to seal the deal.
They said that the Congress had asked for all 29 seats which it had bagged in previous assembly polls. Besides, the 37 seats where it was ranked second and few seats where the margin of loss was less than 5000 votes. 
Congress's UP Chief Ministerial candidate Sheila Dikshit has made it clear that she will step down if asked to.
"If I am asked to step down then I will do it... there can't be two chief ministerial candidates," Dikshit told reporters here on Monday.
Uttar Pradesh, the country's most populous state, will go to the polls in seven phases between February 11 and March 8. Results will be declared on March 11.