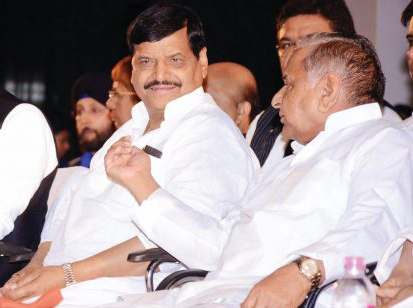 Samajwadi Party chief Mulayam Singh Yadav on Monday sided with his younger brother Shivpal Singh Yadav on the matter of the latter offering to resign, apparently because of some party leaders' involvement in "harassment of the people."
At a function in the Uttar Pradesh capital Lucknow on Monday, Mulayam said, "He (Shivpal) is the only one who listens to me and even he wants to resign Why are they insulting him ? If I stand up, this government will feel the heat."
In a message to his son and UP chief Minister Akhilesh Yadav, 76-year-old former CM also said that Shivpal Yadav was "a good man" whose opinions should be heeded.
On Sunday, at a function in Mainpuri, State Cabinet Minister Shivpal Singh Yadav said, "MLAs and MLCs involved in such activities will be expelled from SP… Those party workers and office-bearers involved in land grabbing and acts of deceit will also be expelled… "Government staff at police stations and tehsils are not paying heed to public grievances. SP had to face defamation because of those involved in land grabbing and illegal acts."
"Samajwadi Party will never allow harassment of public, even if I have to resign for this. Those involved in harassment of the people have no connection with SP," he added.
He said that Netaji (Mulayam Singh Yadav) had built the party with hard work and some party workers were undoing this.
Criticising the role of bureaucrats and engineers, Shivpal said: "Rules are being bypassed in construction projects and engineers are preparing higher estimates. Work is not according to standard."