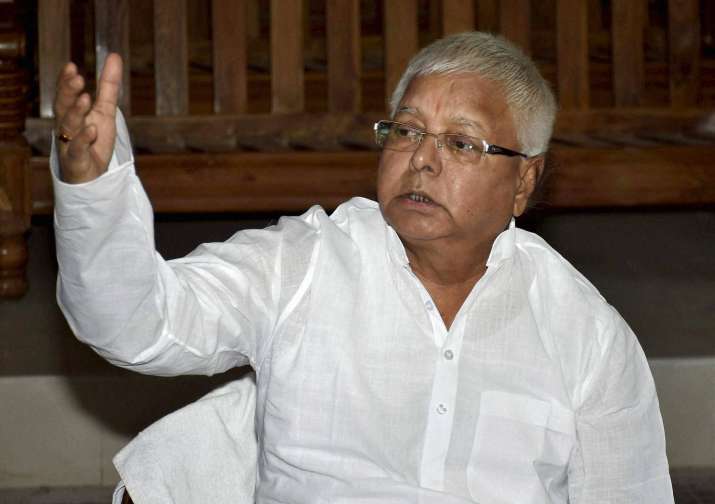 After Delhi Chief Minister Arvind Kejriwal and Congress' attacks on Prime Minister Narendra Modi as Reliance used his picture in frontpage newspaper ads of Jio, former Bihar Chief Minister Lalu Prasad Yadav on Saturday also mocked the advertisements promising 'cheaper data'.  
Reliance, through its ads, had dedicated the Jio 4G service to the Modi government's flagship Digital India project. 
Lalu took to micro-blogging website Twitter to ridicule the advertisement and ask if the poor will eat "atta (wheat floor) or data?"
"What will the poor eat- atta (wheat flour) or data? Data is cheaper, atta is dearer. This is their definition of changing the country. While you're at it, please explain who will solve the problem of call drops," RJD chief tweeted in Hindi on Saturday.
गरीब डाटा खायेगा या आटा? डाटा सस्ता,आटा मंहगा

यही इनकी देश बदलने की परिभाषा है।लगे हाथ ये भी बता दो, काल ड्रॉप की समस्या कौन सुलझाएगा?

— Lalu Prasad Yadav (@laluprasadrjd) September 3, 2016
This came a day after opposition parties took jibes at the Prime Minister as a full frontpage newspaper ads featuring him appeared in the national media. 
Delhi Chief Minister Arvind Kejriwal mockingly dubbed Modi as "Mr Reliance" and accused him of "openly endorsing" its latest Jio services whose launch was announced by business magnate Mukesh Ambani on Thursday. 
The AAP chief's caustic jibe at Modi, including an advice to him to "keep modelling for Reliance", came on a day the Mukesh Ambani-led group splashed advertisements featuring the face of the Prime Minister across newspapers. 
"Modiji you keep modelling for Reliance ads. Labourers across the country will teach you a lesson in 2019. PM as Mr Reliance. Any more proof required to prove that Modiji is in Ambani's pockets. PM of India openly endorses Reliance product," Kejriwal said in a series of tweets. 
Full-page "Jio: Digital Life" jacket advertisements were published with a photograph of the Prime Minister, dressed in a blue jacket. 
Congress also said Modi should take action against Reliance Jio if the telecom company has failed to take permission from the PMO for using his photograph. 
"There are certain norms for displaying photo of the Prime Minister in an advertisement. As a former Union minister, I am aware that prior permission has to be taken," Congress' senior spokesman Ajay Maken said. 
"Had Reliance taken permission from the PM or the PMO? This is needed otherwise the Prime Minister's photo would be on Cadbury or any chocolate. Such a permission has to be given after a deep thought as the Prime Minister is not just an individual but an institution," he added.