A day after Congress vice-president Rahul Gandhi's twitter account was hacked, the verified twitter handle of the Indian National Congress's was taken over by an unidentified hacker.
The hacker posted abusive tweets about the party and its second-in command on the timeline of the Congress party's page. 
The development comes moments after the Congress filed a complaint with the Cyber Cell of Delhi Police against the hacking of Rahul Gandhi's verified Twitter account.
The complaint was filed by party's chief spokesperson Randeep Surjewala, demanding strict action against those behind the hacking. 
Given below are the screenshot of tweets posted on Congress party's timeline: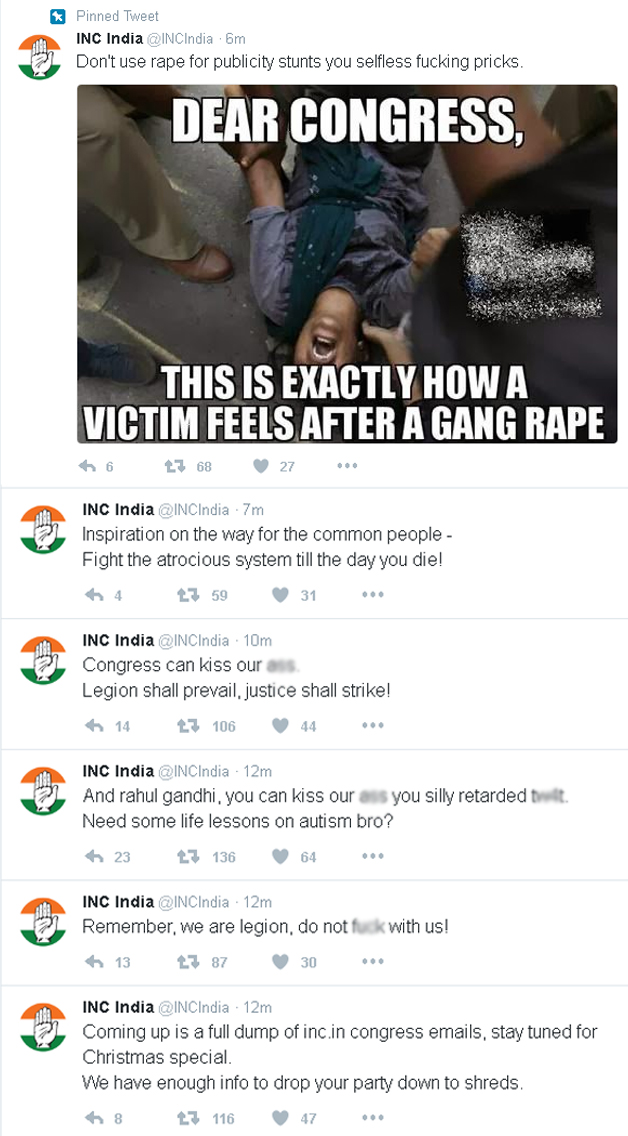 Screenshot of tweets posted on Congress party's timeline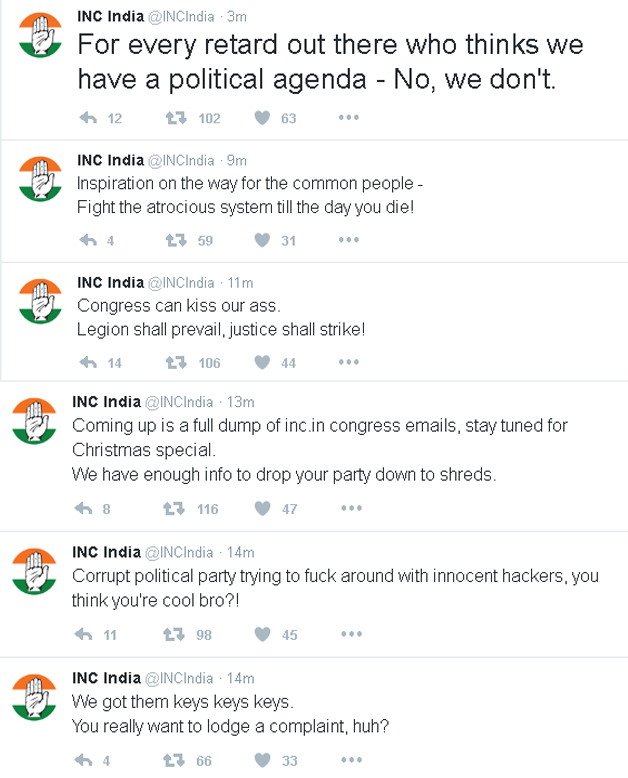 Screenshot of tweets posted on Congress party's timeline
The tweets were, however, later deleted.
On Wednesday, Rahul Gandhi's official Twitter account was hacked and expletives and abuses posted on the handle. The abusive tweets were later deleted.
The hackers also removed Rahul's profile picture and changed the account title from @OfficeOfRG to Retarded gandhi.
After the hacking, Congress raised questions on the digital safety of all Indians and said it reflects disturbing insecurities of the prevalent 'fascist culture' in the country. 
"Such lowly tactics will neither drown the sane voice of reason nor deter Rahul Gandhi from raising people's issues," Surjewala had said. 
"Such unscrupulous, unethical and roguish conduct of venal trolls to hack Rahul Gandhi's Twitter handle reflects disturbing insecurities of prevalent fascist culture," he added. 
Congress president Sonia Gandhi's political secretary Ahmed Patel also tweeted: "The way @OfficeOfRG a/c got hacked, as cybercrime and Twitter watched helpless raises serious Q's on digital safety, Digital India future." 
"Those forcing country to adopt online payment overnight, have they taken steps to ensure a/c of ordinary people will be immune from hacking?" he also said.
Meanwhile, Delhi Police has initiated a probe into the hacking of Rahul Gandhi's Twitter account and has written to the management of the social media site seeking necessary details. 
"We have written to Twitter to provide us log details such as the IP address of the hackers. We have started investigating the matter," a senior police official said.