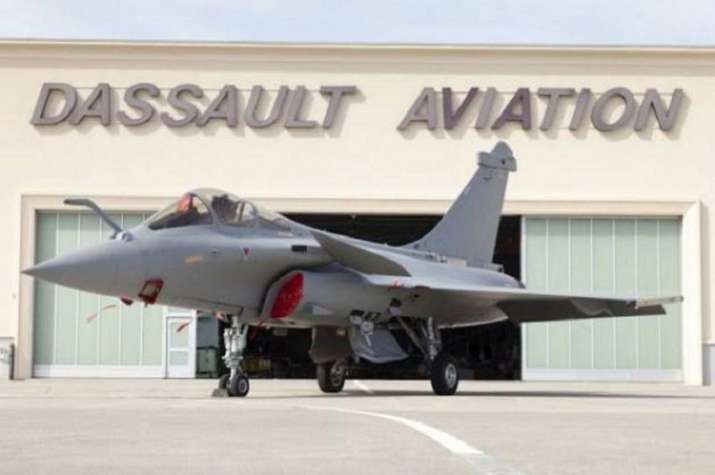 In a new twist in the Rafale deal saga, the Congress on Wednesday released an audio tape in which, the party claimed, Goa Health Minister Vishwajit Pratapsingh Rane is heard saying all files related to the fighter jet deal with France are in 'Manohar Parrikar's bedroom'.
Congress chief spokesperson Randeep Surjewala came out with a conversation purportedly between Goa minister Vishwajit Rane and another person. 
Rane purportedly can be heard saying that during a Goa cabinet meeting last week Parrikar stated he had an entire file and all documents relating to the Rafale deal lying in his bedroom, Surjewala claimed, playing the conversation for the media outside Parliament.
"The chief minister made a very interesting statement, that I have all the information of Rafale in my bedroom....that's means he is holding them to ransom. He said it is in my bedroom here only in my flat, each and every document on Rafale," Surjewala quoted Rane as saying.
However, there was no confirmation on whether it was the voice of Rane in the audio. The identity of the other person was also not ascertained.
Tape doctored, says Rane
Reacting to the Congress' accusation, Vishwajeet Rane said that the audio tape is doctored.  "The audio tape is doctored. Congress has stooped to such a low level to doctor a tape to create miscommunication between cabinet CM. Parrikar has never made any reference to Rafale or any documents. Have asked him for a criminal investigation into this," Rane said.
Rane also wrote to CM Parrikar demanding a probe into the matter.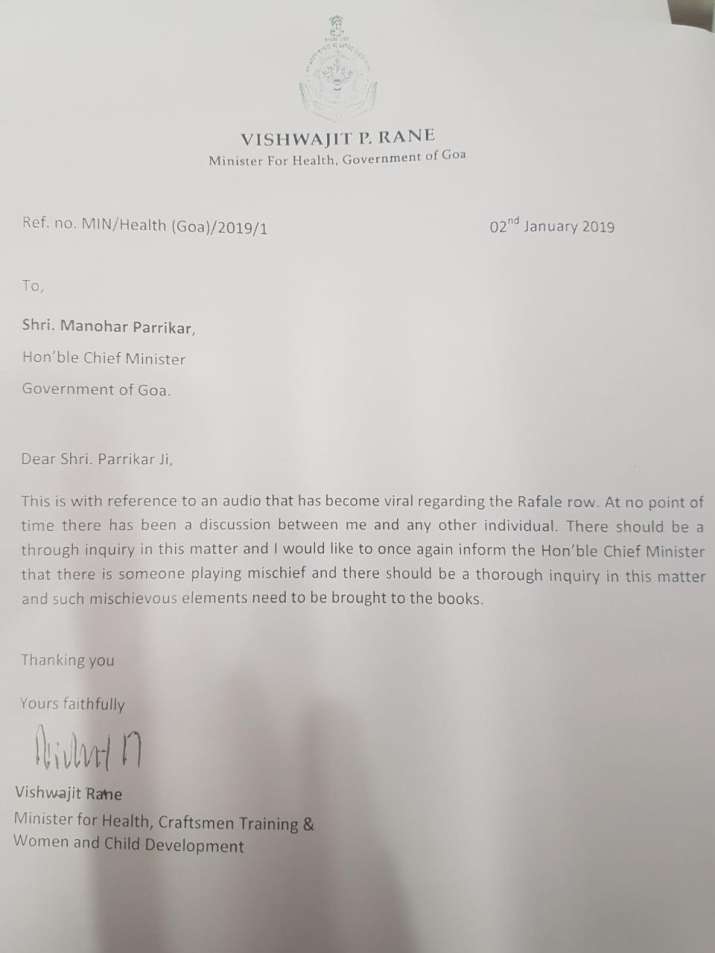 Desperate bid by Congress to fabricate facts: Parrikar
Manohar Parrikar termed the audio clip cited by the Congress on the Rafale deal as a desperate attempt to fabricate facts after the Supreme Court exposed the 'lies' of the opposition party.
Parrikar's comments came hours after the Congress quoted him as saying that he had a file on Rafale deal 'lying in his bedroom'.
Yahswant Sinha, Arun Shourie move SC seeking review of Rafale verdict
Meanwhile, former Union ministers Yashwant Sinha and Arun Shourie and advocate Prashant Bhushan have moved the Supreme Court, seeking review of its December 14 verdict dismissing all PILs alleging irregularities in the procurement of 36 Rafale jets from France. 
In their review plea, they alleged that the judgment "relied upon patently incorrect claims made by the government in an unsigned note given in a sealed cover" to the apex court. 
They have also sought that the plea be heard in an open court.
WATCH: Congress releases audio tape of Goa minister claiming Rafale deal files in 'Manohar Parrikar's bedroom'
(With inputs from agencies)