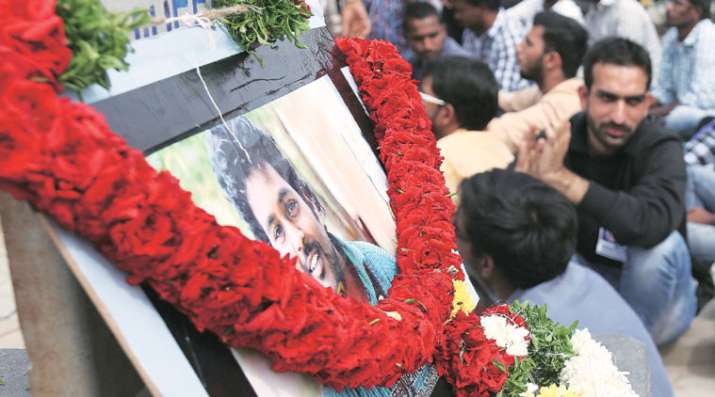 Hyderabad: In some startling revelations, a former student leader of the Left-affiliated Students Federation of India (SFI) at the Hyderabad Central University has claimed that the protests in the aftermath of Dalit scholar Rohith Vemula's suicide were sponsored by political parties which included the Congress, the Left and "opportunistic forces".   
Dejected over the fact that four months of protests have not yielded any results in terms of justice for Vemula, Raj Kumar Sahu resigned from the SFI on Wednesday, saying that opportunistic politics of the SFI had rendered the movement for justice for Vemula as irrelevant. Sahi also serves as the general secretary of the Hyderabad Central University's student union.
Citing reasons behind his decision to quit the SFI, Sahu blamed "opportunisitc politics of the SFI", the "false propaganda" being carried out against certain people and putting the future of students at stake due to the "irrelevant movement".
"The present state of affairs at SFI, HCU is murky….the politics of SFI is opportunistic and not based on principles," Sahu wrote in his resignation letter to the SFI.
Meanwhile, Union minister Venkaiah Naidu has latched on to the revelations made by the former SFI leader, targetting the Congress and Left and asking them to apologise to the nation.
"HCU students union secretary resigns and makes startling revelations. Left and Congress role exposed in Rohit Vemula's episode. They need to apologize to the nation," Naidu said in a tweet.
Rohith Vemula, 26, allegedly committed suicide by hanging himself in his hostel room in early January this year. In a suicide note he left behind, Rohith said he did not blame anyone for his decision to kill himself. He had, however, sent a letter to the University's Vice Chancellor Appa Rao complaining of caste discrimination a month before the tragedy.
Hyderabad University has been on the boil following his death with students demanding the dismissal of the Vice Chancellor and action against Union Ministers Smriti Irani and Bandarau Dattatreya, saying they harassed Vemula and led him to suicide following a a complaint filed by leaders of the ABVP.