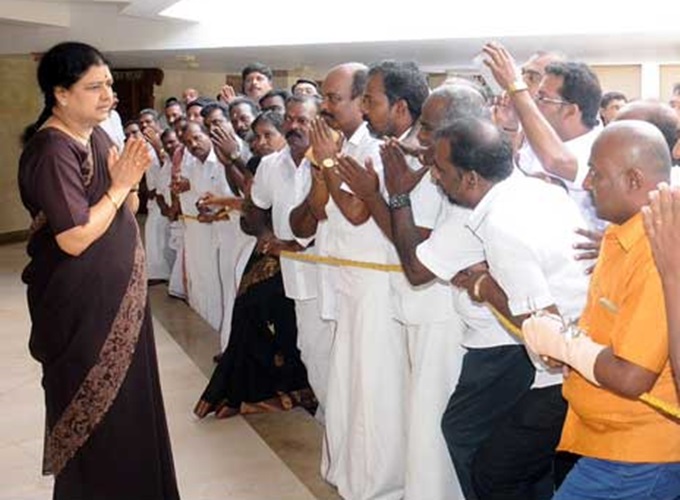 In perhaps an indication of the scheme of things to unfold in the coming years for the AIADMK, senior party leader Thambi Durai on Monday urged Sasikala Natarajan, who took over as the party's General Secretary on December 31, 2016, following the demise of Jayalalithyaa, to take charge as the state CM, saying that leadership of the party and government should be with the same person for the welfare of the people.
"The unfinished tasks of the party and the government, as expected by Puratchi Thalaivi Amma [Jayalalithaa], will be completed only when the leadership of the party and the leadership of the government are in the hand of one person," Thambi Durai, also Deputy Speaker of Lok Sabha, said in a release.
Thambi further pointed out that history has shown that governments have lost their credibility among the people, when the leadership of the party and the leadership of the government was in the hands of two different persons.
On December 29 last year, AIADMK during its general council meet adopted a resolution to work under the leadership of Sasikala Natarajan.
Top party leaders including party presidium E Madhusudanan and Chief Minister O Panneerselvam, who is also the party treasurer, were among the participants.
On December 31, Sasikala broke down during his first address to the party workers as AIADMK chief.
"Amma (Jayalalithaa) is not with us now but our party will rule here for the next 100 years," Sasikala said. 
Referring to the period during which Jayalalithaa was hospitalised, Sasikala said that the former Chief Minister struggled for 75 days but the Almighty called his beloved child back to him. 
Sasikala said that she had been with Jayalalithaa since she was 29, and that the former Tamil Nadu Chief Minister was her "life."