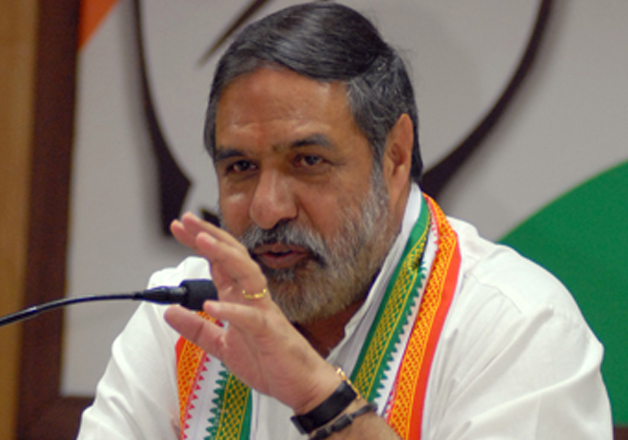 The Congress party on Wednesday stepped up its attack on the government's sudden decision to abolish Rs 500 and Rs 1000 notes, saying 'it will cause problems to aam aadmi'.
Addressing media here, senior Congress leader Anand Sharma termed the cap imposed by government on withdrawal of money from bank accounts as 'unjust' and demanded its immediate roll back.
"It would be absurd on the part of the Prime Minister and his Finance Minister to say that those who are having their own savings accounts in banks, the government has a right to impose a limit. How can the government tell a tax payer, a person who has earned one's living and saved some money in the bank that they cannot withdraw it and the government has the right to impose a limit of Rs 2000? That is questionable, that is not fair and is unjust," he said.
Sharma said there should be no limit on withdrawal of people's money earned legitimately and this shows that government has not made prior arrangements in printing new currency and that is why there are restrictions.
He said this means all those people who have worked hard, who have paid their taxes, who have saved money in their bank accounts have no right to access their funds and the government will tell them how much money they can withdraw, which was questionable.
He also said that equating poor man's money with that used for terrorism is wrong, even as he questioned Prime Minister Narendra Modi's intent in not giving details of big loan defaulters and demanded that a list of top 100 defaulters be released immediately.
The former union minister further questioned the government's move behind introducing Rs 2,000 currency notes after withdrawing Rs 500 and Rs 1000 notes, asking how it will curb blackmoney.
"Another question is about the farmers of the country who bring their produce to the mandis. Which farmer is carrying their cheque book or credit card? Which dhaba in India is accepting cheques or a credit card overnight?  These are issues as social and economic costs have always to be borne in mind," he said.
"I would urge the Prime Minister, we support the fight against black money and take it forward. But today itself release the list of 100 top loan defaulters of big industries who have taken money from banks and have not returned it. It should be make public. If the PM does not make it public, then his intent is questionable," he added.
As part of sweeping steps to battle black money, the Prime Minister late on November 8 evening announced that Rs 500 and Rs 1,000 currency notes will cease to be legal tender from midnight. In a televised address, he said that all the 500 and 1,000 denomination notes can be deposited in banks and post offices between November 10 and December 30. They can also be exchanged across the bank counters by showing government-issued ID proof.