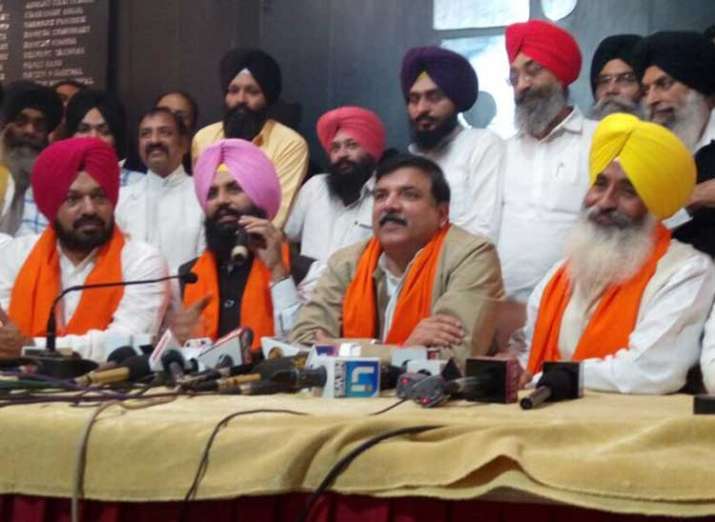 Barely two months after former BJP MP Navjot Singh Sidhu floated Awaaz-e-Punjab, its co-founders Bains brothers have bid adieu to the new dispensation to join ranks with the Arvind Kejriwal-led Aam Aadmi Party which will be contesting Assembly elections for the first time in Punjab.  
Simarjit Singh Bains and Balwinder Singh Bains, who were part of Awaaz-e-Punjab along with Sidhu and former Hockey player Pargat Singh, today formally formed an alliance with the AAP. Following their meeting with Delhi Chief Minister and AAP convenor Arvind Kejriwal on Sunday evening, both independent MLAs sealed their deal. 
As part of their pre-poll alliance with the AAP, their Lok Insaaf Party (LIP) will contest on five Assembly constituencies. 
AAP Punjab convenor Gurpreet Singh Waraich and state in-charge Sanjay Singh were present when the decision was announced.
Balwinder Bains told reporters that they would try to persuade Sidhu and Pargat Singh to also join hands with the AAP.
"Our fight is against the corruption unleashed in Punjab by the Badals. That is why we have done an alliance with AAP," Balwinder Bains said.
The Bains brothers, who had fallen out with the Akali Dal leadership three years ago, have significant influence in and around Ludhiana district.
The duo announced their resignation as MLAs during the special session of the Assembly on November 16 in Chandigarh over the river water-sharing issue. 
The Bains brothers from Ludhiana had floated Lok Insaaf Party. Simarjit was its president and his brother the chairman. 
Sidhu, Bains brothers and Pargat Singh announced the formation of Awaaz-e-Punjab in September and was supposed to be the fourth front in Punjab's political arena.
Awaaz-e-Punjab had been claiming that it was in talks with both Congress and AAP for entering into an alliance for the Assembly polls.