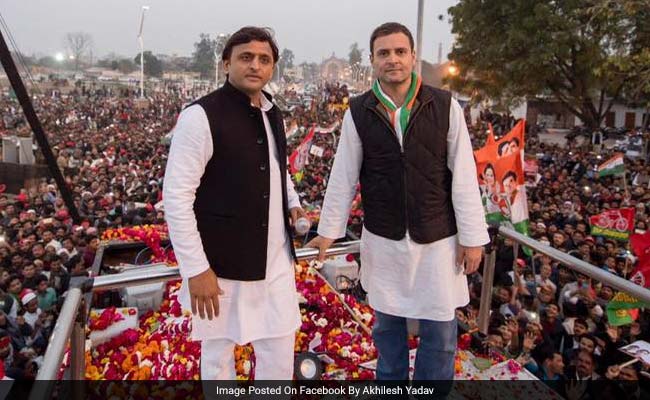 Taking the battle to Prime Minister Narendra Modi's Lok Sabha constituency - Varanasi, Congress vice-president Rahul Gandhi and Uttar Pradesh Chief Minister Akhilesh Yadav today jointly held a mega road show in this temple town of Uttar Pradesh.
The ..-km long road show commenced Ambedkar Chauraha and moved towards Girijaghar Chauraha via Nadeshar-Chowka Ghat Pani Ki Tanki-Doshipura, Gol Gaddha Pili Kothi, Maidagin-Chowk and conclude at Gadaulia before concluding at …. 
Before this, displaying a mega show of strength, Prime Minister Narendra Modi held a 4-km long road show here. Thousands of his supporters thronged to the BHU main gate to join his road show. 
During the road show, the PM offered prayers at historic Kashi Vishwanath temple and Kaal Bharav temple. Later he descended Jaunpur where he addressed an election rally. He is also scheduled to address a public meeting in Mahatma Gandhi Kashi Vidyapeeth in Varanasi today.
Varanasi has 5 assembly segments where polling will be held in the last and seventh phase on March 8. Results will be declared on March 11. 
The SP-Congress alliance hopes to cause an upset in three of the five Assembly segments here currently held by the BJP. 
Fighting separately in 2012, the two parties had together polled more votes than the BJP in all the three seats, with the Congress finishing as the runner-up in two of these-- Varanasi South and Varanasi Cantt. 
In Varanasi North, SP had finished third, behind BJP and BSP, and was followed closely by the Congress. 
All the three seats--which cover almost the entire city-- are being contested by the Congress this time, while the SP is fighting the predominantly rural Rohaniya and Sevapuri.