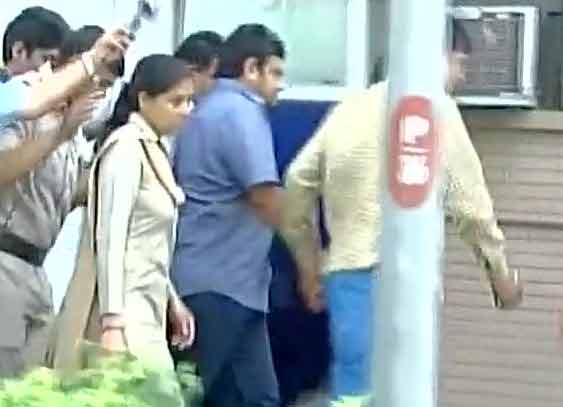 Sacked Delhi Minister and Aam Aadmi Party (AAP) MLA Sandeep Kumar, arrested on rape charges on the complaint of a woman, was today remanded to three-day police custody by a court, days after a CD allegedly showing Kumar in a compromising position with two women surfaced.
The former minister was arrested on September 3 after a woman approached Sultanpuri police station in north Delhi with a complaint of sexual harassment against the former Social Welfare and Women and Child Development minister following which a case was filed. The woman had figured in an objectionable video with him.
The MLA from Sultanpur Majra had surrendered before the investigators at the office of DCP(Outer) in Pitampura where his statement was recorded, police officials had said.
Kumar, 36, was produced before Special Judge Poonam Chaudhry on expiry of one day police custody.
Delhi Police has also detained a personal assistant of Kumar after the sacked minister alleged that he was "blackmailing" him and "threatening to destroy his public image".
Praveen Kumar, who is Kumar's PA, was detained from Delhi Secretariat this morning, police said.
"As of now, we have detained him for questioning from Delhi Secretariat," said DCP(Outer) Vikramjeet Singh.
During questioning by police, Sandeep had claimed innocence alleging that Praveen had "tried to blackmail" him and "threatened to harm his public image".
Yesterday, police had conducted searches at the residence of the minister and his acquaintances.
Kumar has been booked under section 376 (rape), 328 (causing hurt by means of poison with intent to commit an offence) of IPC, under section 67A of IT Act (punishment for publishing or transmitting of material containing sexually explicit act) and Section 7 of the Prevention of Corruption Act (public servant taking gratification other than legal remuneration for an official act).
In her complaint, the woman alleged that around 11 months ago she was raped by Kumar when she had gone to his office in Outer Delhi's Sultanpuri seeking help to obtain a ration card.
She has alleged that Kumar had offered her a spiked drink and when she fell unconscious, she was taken to his house adjacent to the office and raped.
The woman alleged that Kumar had told her that he will get a ration card for her and ensure jobs for her children.
Kumar was removed from the AAP government on August 31 by Chief Minister Arvind Kejriwal after the CD purportedly showing him in a compromising position with the woman surfaced.
Soon after the controversy, the MLA had defended himself, saying he has been targeted.
Kumar's wife has also come out in support of her husband, claiming that he was "falsely implicated" in the scandal.
Following the controversy, cracks have appeared in the AAP with an MLA alleging that a "coterie" was damaging the party.
After party spokesperson Ashutosh defended Kumar in a blog post, Bijwasan MLA Devinder Sehrawat wrote a letter to AAP's national convenor Arvind Kejriwal saying that the situation is getting indefensible and disgraceful and action needs to be taken to remove "rotten elements".
Sehrawat had earlier spoken out against the manner in which AAP had sacked Prashant Bhushan and Yogendra Yadav.
In the blog written for a TV channel's website, Ashutosh had referred to the alleged affairs of icons like Jawaharlal Nehru and Gandhi while seeking to defend Kumar who was sacked as minister after a CD purportedly showing him with a woman in a "compromising position" surfaced.
He was today summoned by the National Commission for Women (NCW).