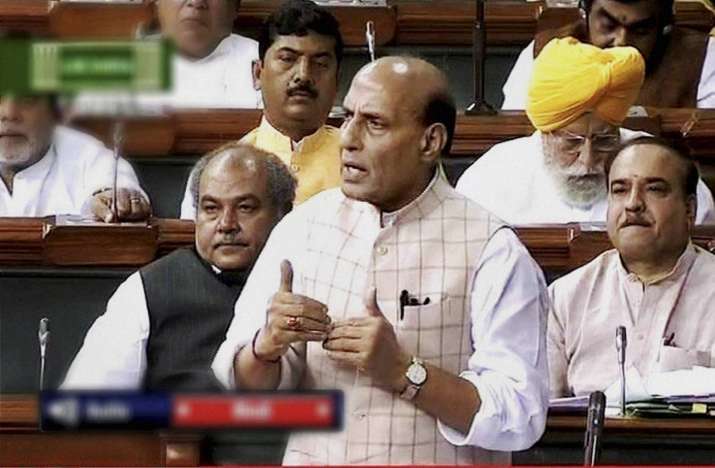 Investigating agencies in India have arrested as many as 54 supporters of dreaded terror group Islamic State in the country so far, the government informed the Lok Sabha today.
Minister of State for Home Hansraj Ahir said in the Lower House that the National Investigation Agency (NIA) and state police have registered various cases with respect of ISIS/ISIL/IS phenomenon in the country. 
"As per the information received so far, 54 ISIS supporters/ sympathisers have been arrested before they could carry out any terrorist attack in the country," he said in a reply to a written question. 
The minister said a few incidents of unfurling of flags of ISIS by some misguided youth were noticed on different occasions in Jammu and Kashmir in the recent past and the state government has been asked to take appropriate action against such elements as per law. 
The NIA recently busted an ISIS module in Hyderabad and arrested seven accused, including two key members of the outfit. 
The NIA had initially arrested five members of the module - Mohammed Ibrahim Yazdani alias Ibbu, Habeeb Mohammed alias Sir, Mohammed Ilyas Yazdani, Abdullah Bin Ahmed Al Amoodi and Muzaffar Hussain Rizwan - on June 29 after a series of searches at 10 locations in Old City here. 
Subsequently, Rehman, who was claimed to have played a key role in plotting terror strikes and also involved in radicalising others, was arrested along with Yasir on July 12. 
Yesterday, in a separate case, the NIA filed a chargesheet against three youths for alleged links with ISIS. The NIA claimed that the three were using social networking platforms like Facebook and WhatsApp to indulge in terrorist and anti-national activities.
The accused have been identified as Sheikh Azhar-ul-Islam (24), resident of Ganderbal in Jammu and Kashmir, Adnan Hassan (36), a native of Bhatkal in Karnataka, and Mohammad Farhan Shaikh (25), who hails from Mumbra, Maharashtra, charge sheet said. 
These accused were arrested on January 29 in Delhi by the NIA for their alleged involvement in promoting the ideology of ISIS, inciting others to join the outfit and indulging in terrorist and anti-national activities through Nimbuzz, Google Talk, Facebook, Whatsapp, Skype, Vkontakte, Kik, Twitter, Hangouts, Snapchat, YouTube, Viber, Wickr, Surespot, Google Drive and Telegram, the agency said. 
They were arrested from Indira Gandhi International Airport (IGIA) after their deportation from UAE.