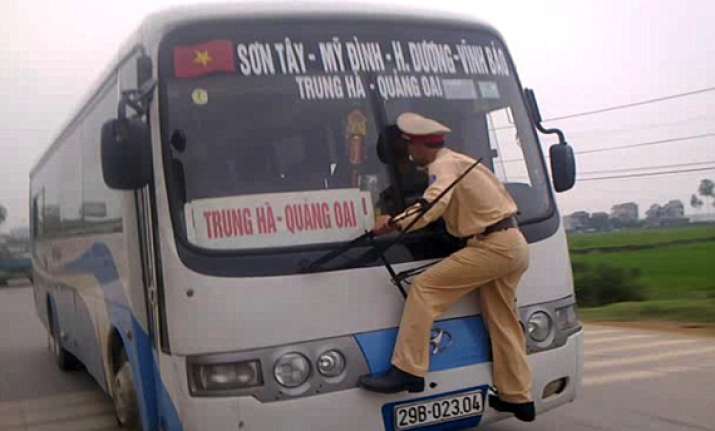 Hanoi, Vietnam, Apr 14: Delhi Traffic Police inspectors could learn a lesson or two from this incident that took place in the Vietnamese capital on Monday.
A Vietnamese traffic police official  risked his life by clinging on to the front of a moving bus for nearly a mile to serve a traffic challan on the driver.
Footage of the dramatic stunt has been uploaded on YouTube and already become an internet hit.
Lieutenant Nguyen Manh Phan ordered  the bus driver Phung Hong Phuong to pull over the 39-seater  coach for driving on the wrong side of the road, in Hanoi on Monday. 
The 37-year-old  bus driver refused to produce his papers, jumped inside the bus and started the vehicle.
An alert Phan grabbed the windscreen wipers in an attempt to stall him.
But that did not stop the bus driver from  speeding off with the  traffic warden precariously dangling from the front as oncoming traffic whizzed past.
The driver eventually pulled over and  was arrested. He has been charged with reckless driving, violating traffic rules and obstructing a government official while performing his duty.
According to Thanh Nien newspaper, he confessed that he was once convicted of fatally running over a person in the southern province of Dong Nai, and served a four-year jail term until 2010.