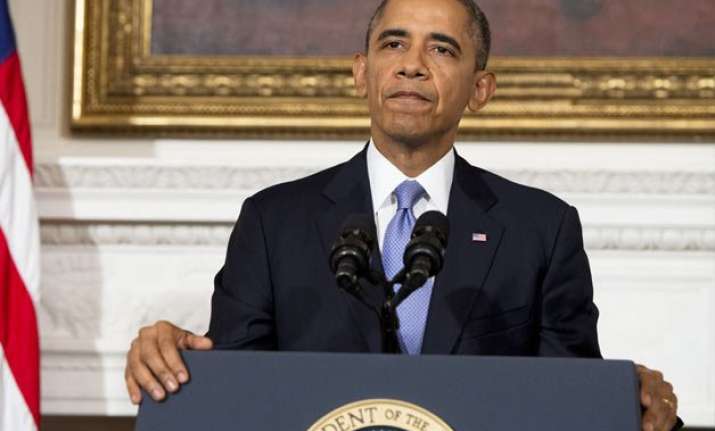 Washington: While directing his national security team to intensify its ongoing counter-terrorism campaign to destroy Islamic State, President of the United States, Barack Obama, made it clear that his country will continue to counter terror plotters of ISIS in any country where necessary.
"The President emphasised that the US will continue to counter ISIL (another name of ISIS) terrorist plotters in any country where it is necessary," the White House said, mentioning that the National Security Council, Obama met to discuss intensification of US campaign to degrade and destroy Islamic State.
Noting that ISIL (Islamic State of Iraq and the Levant) affiliates and other violent extremists attempt to find safe haven in areas with limited or poor governance, he directed his national security team to continue efforts to strengthen governance and support ongoing counter-terrorism efforts in Libya and other countries where ISIL has sought to establish a presence.
"Degrading and destroying ISIL will continue to require coordination and cooperation among a wide range of global partners, and the US is strongly committed to continuing to lead the shared efforts of the Global Coalition to Counter ISIL," the White House said.
Obama was also briefed on ways the US and its partners in the Global Coalition to counter ISIS continue to accelerate and integrate the military campaign and diplomatic efforts on all possible fronts, including working with international partners to counter group's goal of expansion beyond Iraq and Syria.
At the meet, the Pentagon officials concluded that hundreds more trainers, advisers and commandos from the United States and its allies will need to be sent to Iraq and Syria in the coming months as the campaign to isolate the Islamic State intensifies.
Military officials have told the White House that they believe they have made significant progress in the fight against ISIS in both Iraq and Syria. But to deal a lasting blow to the extremist Sunni militancy, they believe that additional forces will be needed to work with Iraqi, Kurdish and Syrian opposition fighters on the ground in the two countries.