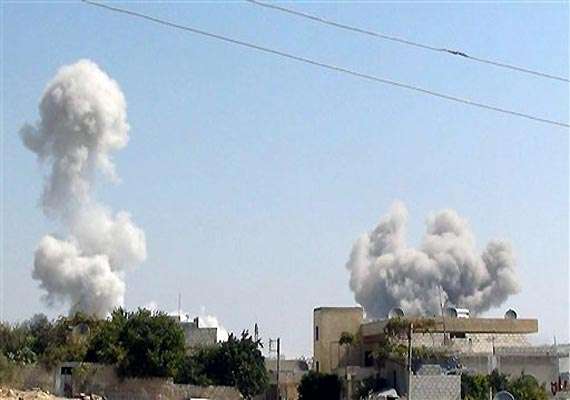 Cairo: The US today said it is seeking an "international coalition" for military strikes on Syria over alleged chemical attacks, even as it faced the prospect of unilateral action after the UK rejected involvement in a shock Parliament vote.
A UK government motion calling for a strong humanitarian response which may have included military strikes was rejected by 272 votes to 285 late last night after seven hours of impassioned debate in the House of Commons.  
Cameron, who has been aligned with President Obama in advocating a tough response, indicated after the vote that he would abide by the outcome.
The outcome raises serious questions for Obama, who has not yet made a decision on the way forward in Syria but had indicated his administration would need international support for any strike.
After failing to win support for an anti-Assad resolution before the UN Security Council, US officials were looking to allies like Britain and France to build a coalition for action in Syria.
The White House said after the vote that it would continue to assess its options on Syria.  
"The US will continue to consult with the UK government, one of our closest Allies and friends. As we've said, President Obama's decision-making will be guided by what is in the best interests of the US," said National Security Council spokesperson Caitlin Hayden.
"He believes that there are core interests at stake for the US and that countries who violate international norms regarding chemical weapons need to be held accountable," he said.
After the vote in UK's Parliament, French President Francois Hollande, said "France wants firm and proportionate action against the Damascus regime."
Hollande in an interview to Le Monde daily said a military strike on Syria could come by Wednesday and the British parliament's rebuff would not influence the course of action that his country would take.
Meanwhile, speaking at a news conference today in Manila, Defense Secretary Chuck Hagel said the Obama administration was consulting with allies to "further develop the facts" about last week's alleged chemical weapons attack.  
Hagel said the White House respected the British stance and that it was still seeking an "international coalition that will act together".
"We are continuing to consult with the British as with all of our allies. That consultation includes ways forward together on a response to this chemical weapons attack in Syria," he said.