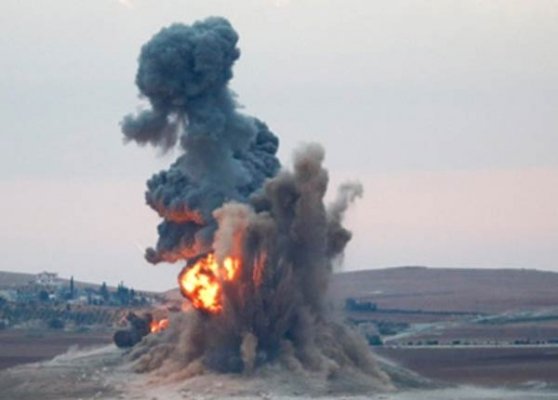 Washington: The US military has carried out 22 air strikes against Islamic State (IS) positions in Iraq and one in Syria over the past two days, the US Central Command said on Saturday.
The aerial bombardment in Syria took place near the Kurdish city of Kobani and destroyed an IS artillery piece, CENTCOM, which is coordinating the US campaign against the Sunni militants said in a statement.
Kobani is one of the militants' strategic enclaves due to its location on the border with Turkey and, according to the Pentagon, has become the main target of its air strikes in Syria, Xinhua reported.
In Iraq, an air strike to the southeast of the strategic Mosul dam struck a large IS unit, while 10 other attacks to the west of that hydroelectric facility destroyed a building, six combat positions and two staging locations used by the jihadis, CENTCOM said.
Three other air strikes were carried out to the south of the Baiji oil refinery and struck two IS combat units, destroyed a building, damaged another and wiped out two of the jihadis' mortar positions, according to the statement.
Among other air strikes, the US military also targeted IS positions near the central city of Fallujah.
Other members of the US-led international coalition that are conducting air strikes in Iraq include France, Britain, Australia, Belgium and the Netherlands.
In Syria, Saudi Arabia, the United Arab Emirates, Jordan and Bahrain are also conducting airstrikes.
The Sunni extremists took control of a large swath of northern Iraq, including Mosul, a city of more than 1 million people, in June.
IS, a coalition of jihadis, tribal militias and veterans of the late Saddam Hussein's army, has proclaimed a caliphate in the parts of Syria and neighbouring Iraq under its control.