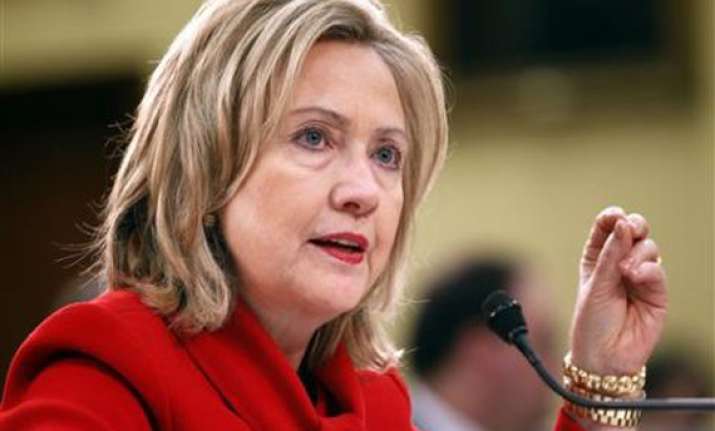 Washington, Jan 13 : The US on Thursday  said it wanted Pakistan to resolve its internal issues in a manner that upholds the country's law and constitution, while asserting its commitment to a democratically-elected government. 

Secretary of State Hillary Clinton also acknowledged that there had been "significant challenges" in ties with Islamabad, but said Washington was committed to work towards making the relationship productive.

Clinton's comments came at a time when Pakistan's civilian government has locked horns with the powerful military over the memo scandal, sparking off specualtions of a possible coup.

"It has been our position to stand strongly in favour of a democratically elected civilian government, which we continue to do.
And we expect Pakistan to resolve any of these internal issues in a just and transparent manner that upholds the Pakistani laws and constitution," Clinton told reporters in a joint media availability with the Algerian Foreign Minister Mourad Medelci.

This was Clinton's first media encounter after her meeting with the new Pakistani Ambassador to the US, Sherry Rehman, yesterday.

"I was delighted to welcome the new ambassador here yesterday. She's someone that I've known for some time," she said.

"My message to her was very straightforward: The US-Pakistan relationship is crucial to both of our countries, to the future of our people, to the safety and security of South Asia and the world," Clinton said in response to a question.

 "We recognise there have been significant challenges in recent months, but we are steadfastly committed to this relationship and working together to make it productive. So we will continue to do so.

"And we obviously have expressed a lot of concerns about what we see happening inside Pakistan," said the Secretary of State.