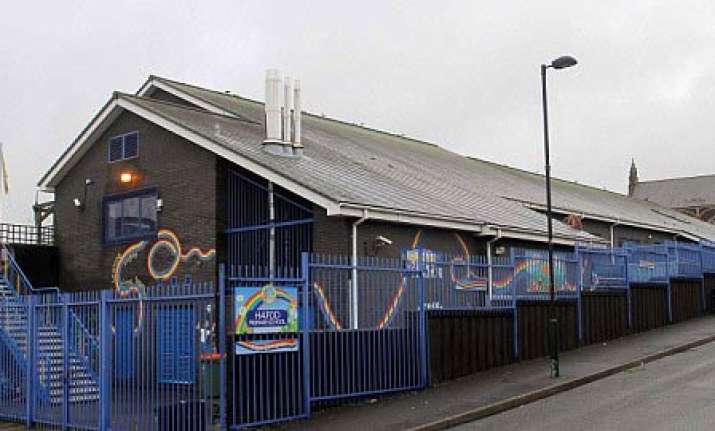 London, Feb 15 : A teacher in Swansea sprayed air freshener over Asian pupils, mostly Bangladeshis,  she described as smelling of curry in the mornings, a tribunal heard on Monday, reports Daily Mail.Elizabeth Davies, 48, was accused of humiliating children aged from three to six by using the aerosol during nursery class.
The hearing was told she accused Bangladeshi children of smelling of onions or curry and would say: 'There is a waft coming in from paradise.'Davies is also accused of spraying pupils who broke wind, of washing children's hands with disinfectant and of making those who wet themselves stand on newspaper.An investigation was launched after a parent complained.
The hearing was told how she accused Bangladeshi children of smelling of onions or curry and would allegedly say: 'There is a waft coming in from paradise' before blasting the air freshener.
Davies is also accused of spraying air freshener on other children who broke wind, washing their hands with pine disinfectant and making them stand on newspaper for accidentally wetting themselves.
Davies, a nursery school teacher for 20 years, taught at an inner-city school where more than half of her pupils were Bangladeshi.A disciplinary hearing of the General Teaching Council for Wales heard she was later sacked from her £34,000-a-year job at Hafod Primary School in Swansea over 'child protection concerns.'  
Learning support assistant Jan Islam told the hearing: 'Mrs Davies would wash the children's hands in a bowl containing pine disinfectant.'She would spray air freshener almost daily.'Children would sit on the carpet. If they had broken wind she would stand above them and spray air freshener at them.
'I've also done this myself on her direction. She would get me to spray it over them.'If a child came in smelling in of onion or curry she would say: "There is a waft coming in from paradise."'Mother-of-two Mrs Islam said the spray was 'usually' for children who spoke English as a second language.She highlighted the case of a three-year-old boy who broke wind - and was sprayed with the aerosol freshener.
She said: 'He told his mother at the school gates that he had farted and that Mrs Davies had sprayed air freshener over him. He thought it was funny and he was happy and cheerful about it.'But the disciplinary hearing was told other parents were unhappy about it and reported it to the school authorities.
Mrs Islam said: 'There was boy aged about four or five who soiled himself. I took him to the toilet and stood him on newspaper.'Mrs Davies would say that we are not here to babysit the children and to call their parents.'Pupils would be told to stand on newspaper until their parents arrive to collect them.'
The hearing was told the 260-pupil school had children aged between two to eleven with a large Asian community - with more than 50 per cent from a Bangladeshi background in the nursery.Presenting officer Martin Jones said Mrs Davies was a 'very experienced teacher who should be expected to understand acceptable behaviour.'  
Mrs Davies denies five allegations of spraying aerosol at pupils, washing pupils hands in disinfectant and making children stand on newspaper.She is also accused of asking her support staff to spray the children. Head teacher Rachel Webb was asked what damage air freshener could cause to young children.   
She replied: 'It is demeaning, dangerous and embarrassing for a child. It could cause serious damage to a child's health.'Police launched an investigation after a parent of one of the children made a formal complaint that it was an assault.South Wales Police said that Mrs Davies would not be facing any charges in connection with the complaints.
Mrs Davies, of Cilfrew, Neath, was suspended on full pay for 18 months while an investigation was carried out. She was later dismissed.She did not attend Monday's hearing in Cardiff but is represented by the National Union of Teachers. The hearing, to decide whether she should be struck off the teaching register, continues.